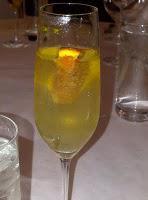 I'm not the only foodie in my family.  My brother has become a terrific cook, but he also loves to enjoy a meal at a top quality restaurant.  For his birthday lunch, my mother, grandmother and I met him at North in Armonk, a really wonderful, relatively new restaurant near us.  You'd never know from the outside how spectacular the food inside could be.
As we were celebrating, we started with cocktails and I had a glass of crisp champagne with blood orange and a hint of mint.  I keep forgetting to try to remake it at home for guests...consider this my "note to self."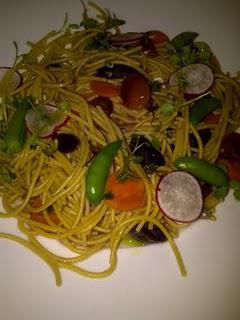 Someone decided to order appetizers so I selected the Harvest Salad: Migliorelli farms arugula, sugar snap peas and Sycamore farms greenhouse tomato confit.  There was something so simple yet flavorful about this dish.  I think the sugar snap peas were just perfectly ripe and sweet which really enhanced the bite from the arugula.
For my entree, they modified the gluten-free spaghettini dish for me and served it with al dente cooked carrots, paper-thin radish slices, roasted beets and pea shoots in olive oil.  It was so colorful it was almost a shame to eat it (but I did...all of it.)
Northern Westchester, NY is beautiful and rural, and closes up earlier than the city, but there are restaurants like this that are surely worth a visit!