NORTH POINT WORSHIP INITIATES SPOTIFY "FOLLOW DAY" CAMPAIGN
Followers Can Enter Tunespeak Drawing To Win Martin Acoustic Guitar
North Point Worship (Formerly "InsideOut") Releases Two Singles Feb. 21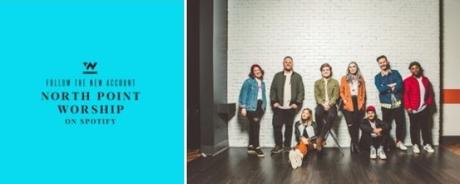 Internationally known for worship anthems like "Death Was Arrested," "Abundantly More" and "Love Come Down," North Point Worship is launching a Spotify "Follow Day" campaign today (Feb. 7). The worship band and members of its global network of more than 90 partner churches will be directing people through its extensive social media network to follow the band's new Spotify page.
Recently changing its name from North Point InsideOut to North Point Worship, the group's "Follow Day" campaign is meant to re-direct tens-of-thousands of "InsideOut" Spotify followers to this new page where they can stay up to date on the latest music from the band. Remarkably, the new page already has more than 798,000 monthly followers.
As a fun incentive to follow the new Spotify page, North Point Worship has teamed with Tunespeak to offer a chance to win a Martin X Series LX1 Little Martin Acoustic Guitar. People can enter to win by following North Point Worship on Spotify, signing up for its email list, and more through this link, https://www.tunespeak.com/campaign/5e274514f6f96443fb2e254b.
 In addition to Spotify, people are encouraged to follow North Point Worship on its new Facebook, Twitter, Instagram, YouTube and Apple Music pages for all the latest news and music.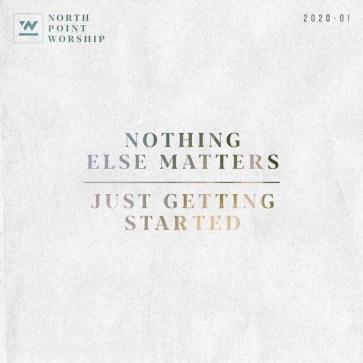 With all songs organically sown in the local church, and written, recorded and led by the North Point Worship team of songwriters and musicians, the band plans to release as many as 12 new songs internationally from North Point Music® and Centricity Music in 2020. The first two of these songs, "Nothing Else Matters (feat. Heath Balltzglier and Desi Raines)" and "Just Getting Started (feat: Lauren Anderson)," will release Feb. 21.
"Both songs are a perfect representation of our vision for North Point Worship," reflects Lauren Anderson. "'Nothing Else Matters' is a soulful, congregational reminder that nothing can satisfy but Christ, and 'Just Getting Started' is a fun, pop-driven tune that inspires us to live in hope and anticipation for what God is doing. These are two core values our team holds to, and I think the songs are a perfect way for us to start 2020."
About North Point Worship:  Originally formed out of North Point Community Church's high school ministry, InsideOut, the worship band from North Point Ministries now serves over 42,000 people attending the multi-campus, metro Atlanta area North Point Community Church every week, along with a growing and diverse, multicultural group of worshippers reaching well-beyond its network of 90 local churches. As part of its mandate to resource the Church with music and lyrics meant for both congregational and personal worship, North Point Worship records its songs in both English and Spanish. The team also began touring for the first time in 2019, leading its worship favorites, headlining its own events and joining artists like Jordan Feliz and Hannah Kerr on tour nationally.
North Point Worship's first recording, No One Higher, released in 2012 and hit the Top 20 on Billboard's Christian Albums chart. The album was followed by 2015's Hear that soared to No. 2 on the chart while further hitting the Billboard Top 200 for the first time. Signing with Centricity Music in 2017, the group released the EP Nothing Ordinary, which featured its song "Death Was Arrested" that is being heard across the globe and has been re-recorded by artists like Aaron Shust and Laura Story. Five more EPs have released to critical acclaim, including Nothing Ordinary, Pt. 1 (Live)and Pt. 2 (Live), the Christmas offering Ring The Bells (2018), North Point InsideOut (2018) and Abundantly More (2019).
About North Point Music:  In 2010, North Point Ministries launched North Point Music as a way to share the songs and talents of its unique collection of gifted worship leaders, musicians and songwriters. The Alpharetta, GA-based record label and music publishing company offers music publishing services, including but not limited to licensing, royalty collection, copyrights, and translations. Their publishing services are administered through Music Services, Inc. and Capitol CMG Publishing.
About North Point Ministries:  North Point Ministries, Inc., was founded in 1995 with the vision of creating churches that unchurched people love to attend. Led by best-selling author, communicator and pastor Andy Stanley, the ministry has grown from one church to seven in metro Atlanta and has developed a global network of more than 90 partner churches. Each week, an average of 42,000 people attend services at NPM churches. Each month, sermons and leadership messages are accessed over one million times via North Point websites. The ministry's broadcast television show, Your Move, airing on NBC after Saturday Night Live, CBS after The Late Late Show with James Corden (Fridays), Daystar and UP networks, reaches well over one million viewers every week in 39 markets.
About Centricity Music:   Centricity is an independent Christian music company based in Franklin, TN. Founded in 2005 with a commitment to artist development and stylistic diversity, its artist roster includes Andrew Peterson, Apollo LTD, Caitie Hurst, Chris Renzema, Coby James, Jason Gray, Jonny Diaz, Jordan Feliz, Lauren Daigle, Neon Feather, North Point Worship, PEABOD and Unspoken. Providing label and publishing services, Centricity is a family-owned organization, and they like it that way. The committed work of its staff and artists has yielded successes such as Grammy Awards, Billboard Awards, Dove Awards, K-Love Fan Awards, and multiple Gold and Platinum Albums and Singles. For more information on Centricity Music, visit www.centricitymusic.com.
~ ~ ~ ~ ~ ~ ~ ~ ~ ~ ~ ~ ~ ~ ~ ~ ~ ~

It would be great if you would stay connected with me!! You can follow me on Twitter @DebiL1611, like me on Facebook at 2014 and Beyond, circle me on Google+, follow me on Tumblr, Instagram and Bloglovin', subscribe on YouTube, or connect with me on LinkedIn and Pinterest.

Please make sure to visit my homepage and subscribe to my blog for more great posts on running, fitness and lifestyle topics as well as food, product, music and book reviews, and more!