Over at our convenient SM Bicutan, we celebrated Father's day with a nice dinner at one of our usual places  in the mall. There aren't many great restaurants in this mall, but this is one of the spots we have grown to love.
Up until recently, I was as knowledgeable on Chinese food as Super Mario is eloquent. I now know that there are many more
authentic
sources for the cuisine, but the fact has not changed that North Park has good food. I haven't even tried half of the menu yet, but I have eaten there enough that I know the tried-and-tested dishes that do not disappoint.
Let's hit the ground running and start with my.. nay.. my whole family's favourite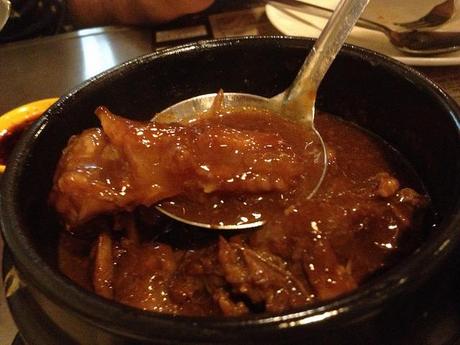 Nanking Beef & Tendon w/ Raddish, P238.00
Look at that large piece of tendon! There are several of that in there, along with brisket-type cuts of beef. It wasn't as tender as I remember this time, but still tasted really good. The sauce is rich and sweet, with pieces of radish that you wouldn't really pay any attention to until all the meat is gone.
Nanking is in
China
and when I eventually visit (yes, I'm optimistic), I'm going to look for their beef! Hold up, did I just forget the appetizer?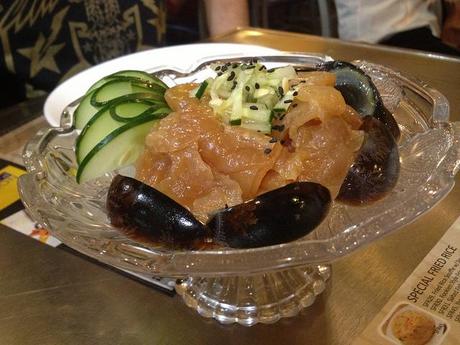 Century Egg & Jelly Fish, P173.00
Yes, this dish, sometimes referred to as
seaweed
 is actually chopped up jellyfish (I had the opposite problem in Mien San). I like it so much, that it's sometimes my favorite part of a lauriat (Chinese full-course meal). The version here is alright, but I prefer it spicy. Century egg is well, century egg. I also enjoyed it. Great appetizer, but I wish it was cheaper. We tried to keep our meal balanced by ordering some vegetables.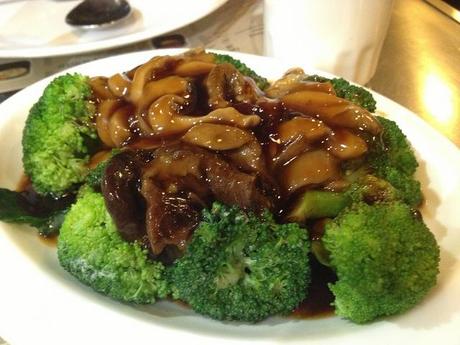 3 Kinds of Mushroom w/ Broccoli Flower in Oyster Sauce, P153.00
I really like broccoli and mushrooms so even just on paper, this was good for me. It was as expected, and quite flavorful, too. A good choice!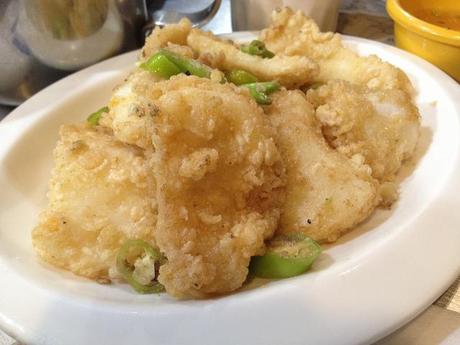 Salted Garlic Squid, P208.00
The closest thing North Park has to the classic Salt & Pepper Squid, one of the best things Chinese cuisine has to offer for me. This was wiped out quite easily. I wish it was more err.. peppery but the squid was soft and flavorful enough.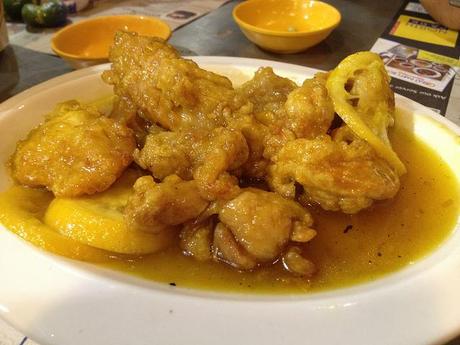 Boneless Honey Lemon Chicken, P223.00
Yes! Another Chinese food classic, though Alvie would fervently disagree with me. I can't believe she doesn't enjoy such a good dish! This was sweet, flavorful, crispy and juicy. Add the word
boneless
 and you know you've got something really good on your plate. I totally overate that night, and it was largely due to the rice. We ordered
a lot
.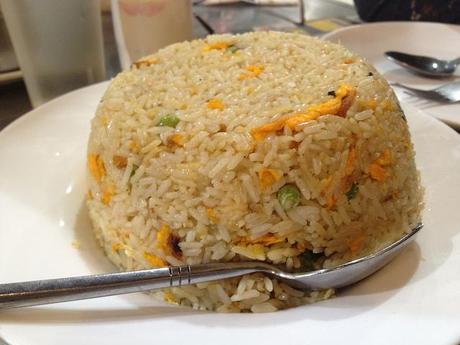 Salted Fish w/ Chicken Fried Rice, P168.00
While North Park's rice specialty might be the Fookien fried rice that is served in sauce, I am not really a fan of that (my parents are, though) so I am glad we tried something else for a change (I always find the taste to be quite boring). North Park's version of the second most famous kind of fried rice in local Chinese restaurants was quite alright. It was sufficiently flavorful, and quite salty indeed.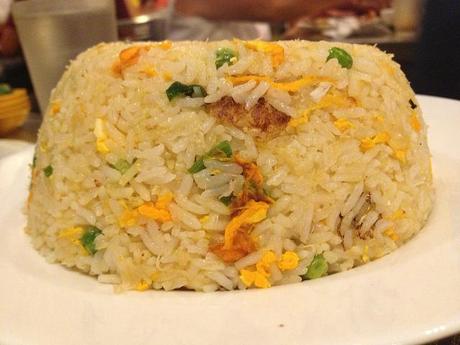 Crab Meat Fried Rice, P188.00
Very similar to the salted fish fried rice, but this had a subtler taste. You might want to opt for this if you want to savor the dishes' flavors more. There wasn't a lot of crab meat, or even a crab taste that I noticed, but it was solid fried rice. Still better than Crystal Jade Dining In's fried rice that costs like a bajillion pesos! #bitter
If the oiliness of it all is a bit much, you can have as much complimentary tea as you want.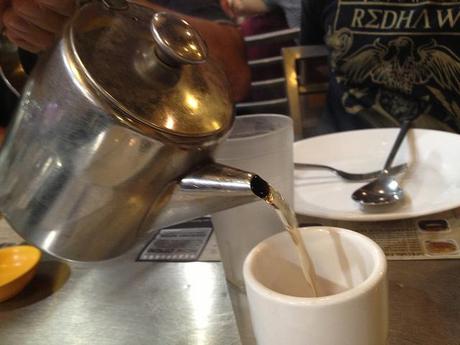 Steel tables and steel pots. This feels like a mess hall!
The tea was alright. In my book, any tea that doesn't taste like burnt rice is alright.
It was a good selection of the favorite classic Chinese dishes for amateurs. :) An enjoyable family dinner!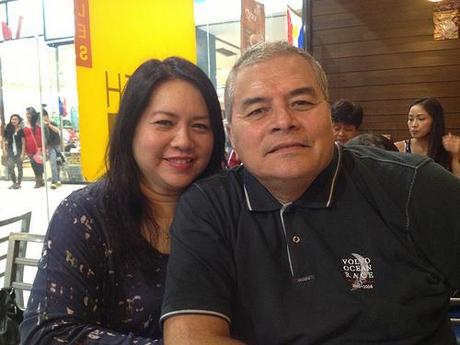 Ze parents.
It was quite a late dinner, and SMB even closed their lights on us. Haha.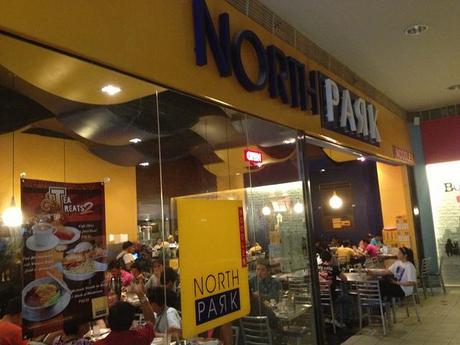 The lighting turned a bit more cozy, at least.
Menu:
Complete Menu
Verdict:
Nanking Beef: Great!
Century Egg & Jelly Fish Salad: Okay
3 Kinds of Mushroom w/ Broccoli Flower in Oyster Sauce: Good
Salted Garlic Squid: Very Good
Boneless Honey Lemon Chicken: Very Good
Salted Fish w/ Chicken Fried Rice: Good
Crab Meat Fried Rice: Good
Service Tea: Okay
North Park isn't the fanciest of places, but who needs fancy? It totally gets the job done, at an affordable price at that. For great dishes like Salt & Pepper Squid and Lemon Chicken, it's hard to screw up anyway! My favorite dish here is indubitably the Nanking Beef and I haven't seen this served
anywhere
 else, not even anything close! Until a challenger appears, we can all be sure that North Park is the undisputed King of Nanking Beef.

Other Restaurants in SM Bicutan:
BonChon Chicken: A Welcome Addition to SMB
NORTH PARK NOODLE HOUSE
2/F, SM City Bicutan,
Doña Soledad Ave. cor. West Service Road,
Bicutan, Parañaque City
(02) 822-5532, (02) 824-3187, (02) 822-5539
Facebook: North Park Noodle House
Website: http://www.northpark.com.ph/
View Larger Map