It's the most WONDERFUL time of the year!! No, no… not Christmas. It's the Nordstrom Anniversary Sale! Each summer the lovely folk at Nordstrom offer new Fall items at discounted prices. Let me repeat that: NEW! FALL! ITEMS! DISCOUNTED! It's pure genius. Those of you who know me know that Nordstrom is my all-time favorite store. My mom has been taking me there for years, and they have been my single source for back-to-school clothes since I was a little girl. As an adult, I reap the immense benefits of holding my very own Nordstrom Card- Nordy Notes, Exclusive Events, Triple Points!! But the real reason I am such a a Nordy-Nerd is because of their outstanding customer service. It is simply unparalleled both in-store, online, and on the phone.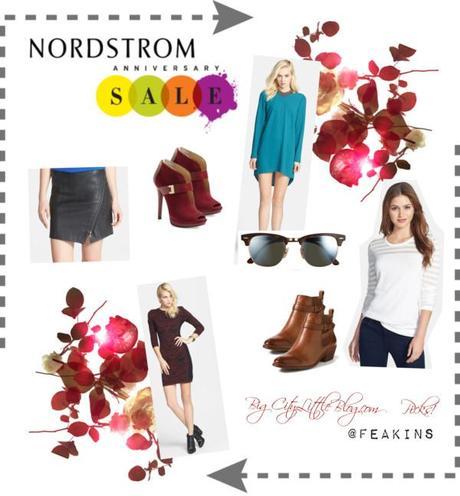 Nordstrom half yearly sale picks! by bigcitylittleblog
Anyway, back to the sale. It ends August 4th, so hurry up and check it out ASAP! As always, they provide free shipping and free returns, so shopping online is easy as pie. Here are my picks for Fall 2014- brought to you by my favorite shopping destination:

The Tildon Baroque Bodycon dress is perfect for fall and winter. The soft fabric is thick enough to feel covered but thin enough to keep you from over-heating. I love the rich burgundy print and any dress under $50 is okay with me!
Sale: $46.90.
 After Sale: $72.00

Another gem from Tildon: This Scoop Back Shift dress! It comes in an array of colors- teal, purple, yellow, and black. Being a true New Yorker: I decided to stick with a basic black that can be jazzed up with faux fur vests and long necklaces.
Sale: $38.90
. After Sale: $59.00

Call me crazy, but even in July I'm dying to snuggle up with a soft, warm sweater this fall. I love this delicate Vince Camuto Top, which comes in black or white. A staple piece for my closet that will look perfect with the sexy leather skirt below!
Sale: $52.90.
 After Sale: $79.00

Two words, Vince Camuto: Ob-sessed. This leather skirt is great for any season- and I intend on wearing it straight away. Side-note: it runs large, so order 2 sizes smaller than your normally would. (First time I've worn a 0 since the 7th grade.)
Sale: $85.90. After Sale: $129.00

Sam Eelman Booties are a fall essential- you need a great pair of comfy flats! I love the style of these- the buckle detail and weathered appearance. And boots under $100? SOLD!
Sale: $99.90.
 After Sale: $159.95

Is it just me: or do these Michael Kors Open-Toe Boots match that Tildon Baroque dress perfectly? I've been eyeing different types of suede burgundy booties for a while now. It was time to bite the bullet.
Sale: $131.90.
 After Sale: $197.95

Okay, okay. These Ray-Bans weren't on sale. But aren't the cute? I've been drooling over them for months, which means I'm seriously in love. And in the great words Beyoncé: If you like it them you shoulda put a ring on it. AKA- COMMIT.
$170.00 Before Sale.
$170.00 After Sale. Womp, womp. Grand total savings??
$240.50.
That ain't bad, kids. That ain't bad.