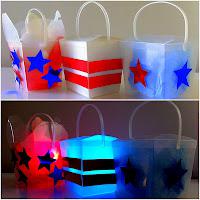 It's no secret that the humble noodle-box is a wonderful thing - here's one example of a clever craft you can make in less than 15 minutes with or without your children!  The design I've made would be perfect for a 4th of July celebration, or a Rodeo, Space or Circus Party decoration, but of course you can change the colours and ideas to make them suit any party colour-scheme or theme (for example they'd look great at Christmas time with red and green, or Halloween in green and orange!)
Here's what you'll need:
Clear or opaque-white noodle boxes.
LED battery-operated lights.
Things to decorate the outside of the boxes.
Things to 'tint' the inside of the clear noodle boxes.
To give you an idea of what I mean, from left to right, here's what I used:
Clear noodle box, blue stars stuck on the outside with double sided-tape, a small sheet of red cellophane inside, and a dinosaur shaped night-light which was too big for the box, but was fun none the less!
White noodle box decorated with red electrical tape (washi tape would work too), and inside is a small glowing-ball, again, borrowed from the girls' bedroom.
Clear noodle box with red and blue stars outside, pale blue tissue paper inside, and a small LED candle inside.  The candle wasn't strong enough to glow through the tissue paper, but it probably would have worked with blue cellophane.  I also tried a glow stick, but again, the light wasn't overly bright.
To make your own noodle boxes - experiment
- they're so cheap you can buy a 10 pack and make a variety of different ones.  Let everyone in the family make their own, or you can trial designs until you find your favorite and then replicate it many times over for a consistent decorating look.
Line them up on entry steps, mantelpieces, bookcases, hang them on coloured wool from trees, or on long lines to make garlands; the multi-coloured night-skies the limit here!
The nice thing about this craft project is that it's fun and easy, and they boxes look pretty by day as well as night.  Although you can't see it in the photo (because it's currently
pouring
rain here), the sunlight when it was out, reflects off the shiny blue stars and shines through the red cellophane, so the clear noodle boxes are definitely my favourite!
Please remember - always take precautions even with fake lights - read the manufacturers instructions, follow their advice in terms of adequate ventilation and don't allow the lights to overheat.