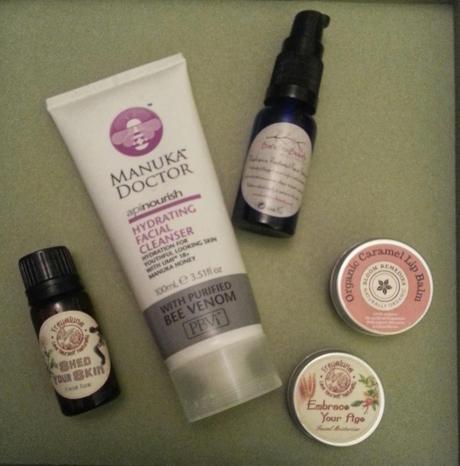 I can't believe we are almost at the end of #NoBuyJanuary, just one more week left. I have spent quite a lot of my time dodging emails about some fantastic offers and sales that have happened over January and am pleased that I have managed to resist up to yet. I have really enjoyed these posts and have picked up some fantastic tips from fellow bloggers.
 This week I thought I would share what I am currently using in my night time skin care regime.
After finishing my Botanicals samples I have moved over to using Manuka Doctor Hydrating Facial Cleanser. I tend to keep to the same cleanser for day and night time use. I have to confess this is something I took away with me over Summer and forgot to take out of my travel bag. I have only been using this since the beginning of the week but I am really liking it. This is made with Purified Bee Venom, Manuka Honey, Rosehip Seed Oil, Blackcurrant Seed Oil, Vitamin E, Monoi Butter, Olive. I have found this to be very moisturising and gentle on my skin. It removes make up easily and has a lovely fresh fragrance. It's nice to go back and rediscover forgotten products.
 I have been using Freya Luna's Shed Your Skin Facial Tonic as my toner. This is another lovely product on the skin. It is lovely and refreshing and is very gentle. Made with essential oils of benzoin, palmarosa and neroli, this is really good for dry skin.
 Bare Faced Beauty Radiance Restored Face Serum. I have already told you how much I love this earlier in the week, so I won't go on. It is really very good though.
 At night I do like to have a richer moisturiser and at the moment I am using Freya Luna's Embrace Your Age. This contains carrot seed, frankincense, sandalwood and rosehip oil. This feels very luxurious and smells lovely. I really like this moisturiser.
 I have been keeping my dry lips at bay with Bloom Remedies Organic Caramel Lip Balm. This really does smell good enough to eat. This is very moisturising without feeling heavy or sticky and is quickly becoming a favorite product.
   How have you been getting on with #NoBuyJanuary ? Have you rediscovered any forgotten gems?