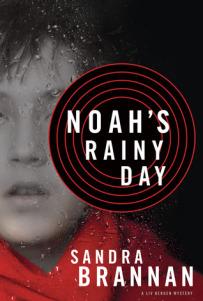 What's it all about?:
From birth, Noah Hogarty has lived with severe cerebral palsy. He is nearly blind, unable to speak, and cannot run, walk, or crawl. Yet his mind works just as well as any other twelve-year-old's—maybe even better. And Noah holds a secret dream: to become a great spy, following in the footsteps of his aunt, Liv "Boots" Bergen.
Now, freshly returned from training at Quantico, FBI agent Liv Bergen is thrown into her first professional case. Working side by side with veteran agent Streeter Pierce, enigmatic agent and lover Jack Linwood, and her bloodhound Beulah, Liv must race to find five-year-old Max—last seen at the Denver International Airport—before this Christmastime abduction turns deadly. Meanwhile Noah, housebound, becomes wrapped up in identifying the young face he sees watching him from his neighbor's bedroom window, but he can neither describe nor inscribe what he knows.
And his investigation may lead to Noah paying the ultimate price in fulfilling his dream.
Noah's Rainy Day (the fourth novel in Brannan's mystery series) combines classic Liv Bergen irreverence and brainpower with an unflinching look at the darkest of human motivations, all while a whirlpool of increasingly terrifying events threatens to engulf Liv and Noah both in one final rainy day.
What did I think?:
First of all, many thanks to both NetGalley and Greenleaf Book Group Press for allowing me to read a copy of Noah's Rainy Day in exchange for an honest review. I really love being part of NetGalley, it has thrown very few "bloopers" my way and often, you can find a real gem of a book, which is what I felt about this novel. It is the fourth in the author's Liv Bergen series and I always worry about reading a middle-of-the-series book (purely a personal thing, I'm very particular to the point of obsessive compulsive about reading things in order!). I needn't have worried though, this novel stands on its own as a great mystery with some fantastic characters that I'm now very much looking forward to reading more about in the previous and future releases in this series.
Liv Bergen has just qualified as an FBI agent after quitting a job she didn't particularly enjoy but it looks like her first official case as a Special Agent will affect her in ways she could have never predicted. A five year old boy Max, seems to have disappeared off the face of the earth after his multi-millionaire father packed him onto a flight so that he could spend Christmas with his supermodel mother (the couple are divorced). The flight had a stop-over in Denver and as an unaccompanied minor, Max was being looked after by an airport employee however when he becomes distracted, Max is whisked away and is now officially missing, presumed kidnapped. A ton of pressure is being placed on Liv and her team's shoulders, particularly as the parents are minor celebrities and the case is getting a lot of press. Liv is fully aware that there often a crucial time limit on missing children before the situation escalates and the child in question is at high risk of being killed.
The star of this story for me however was not our fiesty, caring FBI Agent Liv, but her nephew, Noah Hogarty, whose personality and resilience shine right through the pages to make this a fantastic, unputdownable read. Noah was born with Cerebral Palsy and is confined most days to his wheelchair unable to talk, move around a great deal, is partially blind and prone to terrible seizures. His Aunt Liv is one of the most important people in his life and unlike many who come into contact with him, treats and talks to him like an adult. She has the strength of mind to see past his disability and is aware of his high intelligence and compassion for others, often bringing him little gifts and gadgets so that he can learn to be a "spy" like her – one of his dreams.
Liv and her team are having a tough time coming up with any leads to explain little Max's disappearance and his current whereabouts, even after scouring through hours of CCTV footage from the airport. We as the reader on the other hand know exactly what has happened to Max and terrifyingly, so too does Noah for reasons I will not disclose. Noah is desperate to try and make the adults in his life, namely Liv and his mother understand that he has vital information that could lead to the recovery of Max but being unable to talk/write/etc is proving quite an impenetrable barrier. Then the tables turn and Noah's life too becomes in very real danger – can Liv put all the clues together to save her beloved nephew before it is too late?
I was really pleasantly surprised with this book. I didn't have any expectations going in as I hadn't read the other books in the series or the author before but I was delighted to get a novel that was full of excitement and drama yet also full of heart. As I mentioned, Noah was the stand-out character in the book but I also loved his relationship with his sister Emma and how they learned to communicate with each other using "the five finger method," where each finger and knuckle of a hand represented a number or letter of the alphabet. At times, this was also quite a frustrating read but only in a good way as I was well aware of what was going on, it was just waiting for every other character to catch up! Anyone who enjoys a good mystery and a tense, thrilling read will really enjoy this story and I must also applaud the author for writing about a character with a disability who, like anyone, is just a normal person that deserves love and understanding.
Would I recommend it?:
But of course!
Star rating (out of 5):