Once a year, throngs of youthful, vivacious individuals converge on Zilker Park in Austin to behold the overly-priced spectacle of live music. They contend with (typically) unpleasant weather and (without exception) unreasonable crowds to see as many of the bands they love in a span of three days or less. It's more or less just like South By Southwest, except much more concentrated and with fewer grumbles of "Move back to California." Being longtime Austin residents and infrequent festival-goers, Eric and I took one look at 2012′s lineup and our short walk to Zilker before deciding to go all in this year. The result was loud, muddy, smelly, chaotic… and absolutely priceless. — Matt
TOP TEN
10. NEEDTOBREATHE — The Born-Again Kings of Leon absolutely brought the energy. Being front and center for Bear Rinehart's soulful growly vocals and electrifying guitar solos  was easily worth the extra time spent camping out at the Bud Light Stage beforehand. The band might have brought South Carolina's weather with them.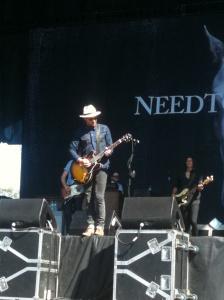 Brought to you by Matt's ultra advanced iPhone 3GS.
9. Metric — Synthy alt-rock and OH MY GOODNESS LEGS. What more could you want?
8. The Avett Brothers — Maybe it was the Sunday night fatigues, or the toll of the hot and humid, or the fact that they opted to play the brutal "Paul Newman Vs. The Demons" and nothing from Emotionalism, but I was simply not as charmed by the Brothers Avett as most of my peers. Perhaps I had set my expectations unreasonably high. Which is not to say I didn't have fun here – for the most part it was a party, and a musically-skilled one at that. But seriously. Not even a Chad Smith guest appearance behind the drums could salvage the Paul New-mess.
Highlights: The rollicking "Talk on Indolence," the heartfelt "I And Love And You," the on-stage dance moves, the Joe Kwon.
7. Two Door Cinema Club — While I was surprised at the massive draw the Irish posse accounted for, the big crowds were certainly merited. Perhaps the slickest, most polished performers I saw the whole weekend.
6. Ben Howard — This performance might be higher on my list, save for the multitudes of high-schoolers and college freshmen overwhelming the crowdspace. However, I am nothing if not a good sport, and I opted to view this simply as a sign of encouragement for the collective tastes of our nation's youth. "Maybe there is hope yet," I said, then proceeded to be trampled by throngs of bloodthirsty 17-year-olds en route to Die Antwoord.
Highlights: Effortless transitions from breezy acoustic jams to outright face-melting breakdowns. Ben Howard's backing band. Ben Howard's accent.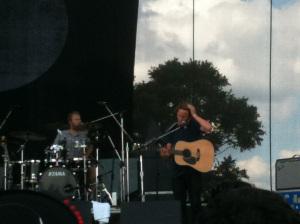 Brought to you by adolescents.
5. Weezer — It is said that he who must achieve much must sacrifice much, and to achieve one Weezer we had to painfully void our right to behold one Florence Welch (Big Red/Flo-Welcha) and her Machine. I'm not going to say one choice or another was "better," per se, but my teen self gave me enough high fives to convince me that I was doing the right thing. Rivers Cuomo was as Rivers Cuomo as ever, and even though there's a whole section of the Weezer catalogue I'd like to be stricken from the collective consciousness forever (mostly just Make Believe), Rivers Cuomo and the Fightin' Rivers Cuomos played enough Blue and Green Album material to keep me delighted. Coulda used more Pinkerton, but then again, life can always use a little more Pinkerton.
Highlights: Buddy Holly, Say It Ain't So, My Name Is Jonas, The Sweater Song, El Scorcho. Rivers dancing with the sign language interpreter. Bro in front of us who asked "so, is his name 'Weezer' or what?"
4. Kimbra — The won-me-over act of ACL 2012. I can't say I have ever actively decided to listen to Kimbra, but after her spastic, brightly-colored, well-executed set replete with crowd engagement and what-is-she-doing dance moves, I would actively choose to watch her perform anytime. Some of the best stage presence I've ever seen. "Entertaining" is a gross understatement. And her backing band was absolutely stellar.
Highlight: Facial spasms.
3. M83 — Best set production of the weekend. Effusive performers, the lot of them. I have absolutely nothing negative to say about this performance. And to the hundreds of individuals who peaced out after "Midnight City," shame on you. You missed a lot.
Highlights: Production value, passion, on-stage fun. Crowd singing "BAWM-BAWM-BAW-BAWMMM" to "Midnight City".
2. Dry The River — I was really looking forward to these guys, and they did not disappoint. Plus, the Texas/OU game was well out of hand by about noon, so I had no qualms about leaving the football tent early to get up front and center. DTR have described themselves as "folky gospel music played by a post-punk band," and if there's such a thing as folk-gospel-punk at all, these guys have perfected the craft. DTR is built around airtight swoon-inducing harmonies, sweeping crescendos, and perfect dynamics. Every song has a massive payoff, if you're patient enough to reap the rewards. It was what these guys did with each payoff that vaults them into my #2 spot; to put it simply, they absolutely went nuts. Coordinated shouts, post-rock guitar shreds, seizure-inducing drum climaxes, chill-worthy vocals. Dry the River had it all, and a Paul Rudd doppelganger for a bassist, to boot.
Highlights: Every single song. But, "New Ceremony," "Bible Belt," and "Weights and Measures" were a head above the rest.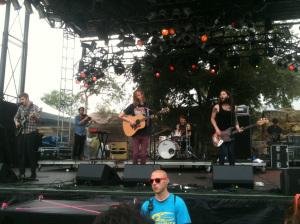 River: Dried. See Paul Rudd on the right.
1. Jack White — My Saturday was sold out for Jack White. I sacrificed a couple of acts I was really excited about – namely, Punch Brothers and The Roots – to sit through The Shins' snoozefest ("New Slang"? No need to play that!) and a couple rain showers so that we might encroach on the closest possible territory to Jack White himself. The payoff was a 10-rows-back center spot and the realization that with enough muscle and/or disregard for the strangers around us, we probably could have made it that far up without camping out anyway. Oh well.
To the set: it was absolute perfection, save for some sound issues early on that were caused by the massive decibel level countered with the acoustic instruments collecting feedback on stage. Once resolved though, a tuxedoed and top-hatted Jack and his blue-dressed, massively-talented all-lady backing band put on the most badass rock show I've ever seen. The setlist was perfect – plenty of new solo material, but plenty of White Stripes numbers and a nod from the Raconteurs and Dead Weather kept the set varied and interesting. With hardly a break between songs, White kept the pace fast and furious, blazing through crowd favorites "The Hardest Button to Button," "Steady as She Goes," "Love Interruption," "Seven Nation Army," and personal favorite "Ball and a Biscuit." The fine young lady on drums was absolutely jaw-dropping (so, not Meg White), as were the fine ladies on bass, violin, and piano. The whole thing was a whirlwind of aggressive blues, bluegrass, folk, rock… you name it, Jack conquered it. Absolutely phenomenal.
Highlight: Jack strikes opening bars of "Seven Nation Army". Crowd goes bonkers. Crowd engages in Tomahawk Chop OH-OH-OH-OH-OH-OHHH-OHHH-a-long on every chorus.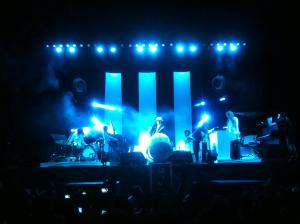 Happy Jack.
HONORABLE MENTIONS
First Aid Kit — Like Heart, but younger and whispier and folkier and more Swedish.
LP — Literally only caught a couple minutes, but wowza. PIPES.
Trampled By Turtles — The best little Minnesotan bluegrass band you ever did hear.
DISHONORABLE MENTIONS
Texas/OU — I have nothing to say about this, except for the childhood nostalgia evoked by allowing 63 points to that team north of the Red River. The lack of sound in the football tent turned out to be a blessing in disguise.
The weather — Ideally, moving the festival back to October should yield cooler temperatures, but it was all 90 degrees and rainy/humid. If I want a nasty cesspool of smells I'll move to Houston, thank you very much.
The crowd at The Lumineers — HO. HEY. Come on, people. I love The Lumineers as much as the next person – and apparently there are a lot of us – but GET IT TOGETHER EVERYONE. All 500,000 of you. Mostly, I think the blame falls on whoever decided to throw up a fence across one of the two possible exit points from this cluster****.
ACL 2012, everyone. Let's do it again next year.