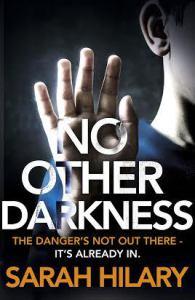 What's it all about?:
From the Richard and Judy bestselling author Sarah Hilary. The phenomenal Marnie Rome returns in the outstanding follow up to the critically acclaimed SOMEONE ELSE'S SKIN.
Two young boys.
Trapped underground in a bunker.
Unable to understand why they are there.
Desperate for someone to find them.
Slowly realising that no-one will…
Five years later, the boys' bodies are found and the most difficult case of DI Marnie Rome's career begins.
Her only focus is the boys. She has to find out who they are and what happened to them.
For Marnie, there is no other darkness than this…
What did I think?:
I became a fan of Sarah Hilary's after her amazing debut novel Someone Else's Skin which was a Richard and Judy book club choice and a fantastic read which left me in no doubt that this was a series and an author that I was definitely going to follow. Sarah's second novel featuring Detective Inspector Marnie Rome came out in April and I was lucky enough to get an advanced reading copy from Headline publishers and Book Bridgr in exchange for an honest review. Thank you to them! Well, I was hooked from the very beginning with an instantly intriguing and disturbing prologue featuring two young boys trapped in an underground bunker with no hope or means of escape. Five years later the bodies are found and DI Marnie Rome's team must try to discover who the boys are and why on earth they came to such a horrific end.
I'm finding it difficult to review this book without giving away any spoilers as, like her debut, there are multiple layers to this story and in the end it turns out to be a hell of a lot more then just a "child abduction," which is instantly suspected as the main motive for the killing. The author delves into some difficult and controversial areas and her main character Marnie is so determined to figure out the puzzle behind the two boys in the bunker that she risks endangering herself in the process. We also learn a lot more about Marnie's wonderful sidekick, DS Noah Jake in relation to his childhood and more specifically, his relationship with his brother. The case has affected the team so deeply that they all begin to re-evaluate their ties with their loved ones and I really enjoyed learning more about both Marnie and Noah, two characters that have such an interesting back story and I just know more secrets are going to pop out as the author continues the series!
Once again, the ending was pure magic and such a roller-coaster ride of tension that I was certain I was going to leave finger indents on the book where I was gripping it so tightly. Sarah Hilary has a talent for turning up the pressure notch by notch, very slowly to a point where it almost becomes unbearable (this is all in a good way, of course!). This has the effect of making you feel on the edge of your seat at all times and putting the book down is practically impossible. The dramatic plot, tension and brilliant, relatable and readable characters all combine to make Sarah Hilary one of the best new voices in crime fiction currently writing today. She is also one of the authors that makes me rub my hands together in glee when anticipating a new book from them and I highly recommend starting with Someone Else's Skin if you haven't read this author before. All I want to know now is when is the third book coming out again?
Come back tomorrow for my interview with the lady herself when I ask the question we all want to know… does she dog-ear her books?!
Would I recommend it?:
But of course!
Star rating (out of 5):