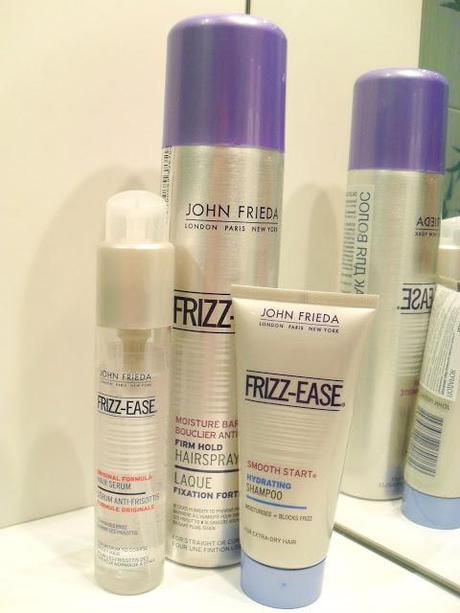 From time to time it seems that my hair has a life of it's own. It's neither curly nor straight, quite thick and unruly and I never know when a bad hair day is comming. I'm constantly trying to find the products to satisfy my hairs' needs. It gets greasy quite easily by the end of the day, it's frizzy and sometimes almost impossible to style, the ends are quite dry. In general I'm quite happy with it, but there are days when nothing goes right and that's when John Freida comes in handy. 

I bought Frizz-Ease Hair Serum for medium to coarse frizzy hair, Moisture Barrier Hairspray and got a Smooth Start Hydrating Shampoo as a little gift from the store. Couldn't wait till I get home and try it all out! In general I'm pretty happy with this range, there are hits and misses as usual though. Let's get started, shall we?

The product I'm least impressed with is hydrating shampoo. It seemes like nothing special to me. It's supposed to moisturise and block frizz, but I didn't notice much of it. To me it's no different from any other shampoo out there.

Hair Serum turned out to be quite nice. I apply it to soaking wet hair in the shower, avoiding the roots, and it does deal with frizz but the hair should be styled after for you to see the results clearly. If i blowdry it or use curling iron or hair straightener my hair looks fabulous! If I just leave it to air dry the results are way less visible. So I have quite mixed feelings about this serum. I was buying it hoping I'd apply it and that would be it! I'm not a fan of electrical styling or hot rollers, I'd prefer to have something allowing me to just air dry my hair and be ready to go. Doesn't work that way! A bit of a disappointment.

The star of the show for me is Moisture Barrier Hairspray. It's the best hairspray I've tried so far. It does exactly what John Freida promises on the tin. Longlasting, gives my hair loads of shine, has a very firm grip supporting any hairstyle. And it does help with the frizz! It gives me the sleekest ponytails, bouncy curls and perfect braids. UV filter makes it perfect for outdoors, can't forget hair needs sun protection as well as the skin. I'm very impressed with it and will be repurchasing. I also have my eye on Frizz-Ease Dream Curls curl perfecting spray, read a few raving reviews about it, now want to see it's magic work on me!