Good day darlings! It's been a while since I last posted.  My internet connection has been crap for the past few days but that's another story and I don't want rants and negativity on this post.  So, last time, I told you that I made cheesecake for a friend.  I tweaked my old recipe a bit.  If you haven't checked my old recipe, please click here.  This version I think, because I added eggs made the cheesecake much more creamier and delicious.  Plus, I added something to the crust that made it more special.  Also, the chilling time is much more shorter than my original no-bake recipe.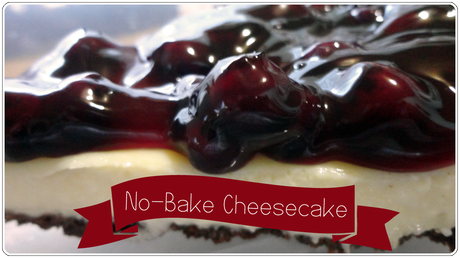 Here's how I did it.   First you will need the following:
For the crust:
1. Graham crackers
2.  Sugar
3.  Melted butter
4.  Hazelnuts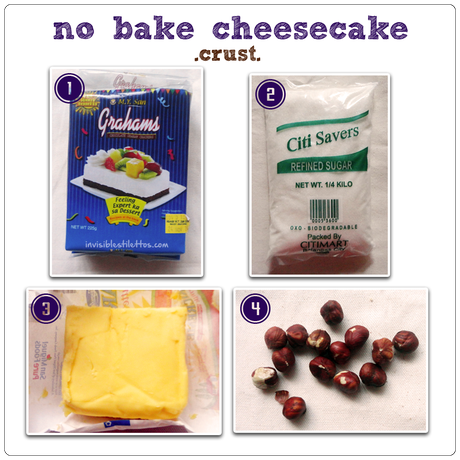 For the filling:
1.  One carton of all-purpose cream
2.  A small can of condensed milk
3.  An egg
4. Blueberry (topping, optional)
5.A block of cream cheese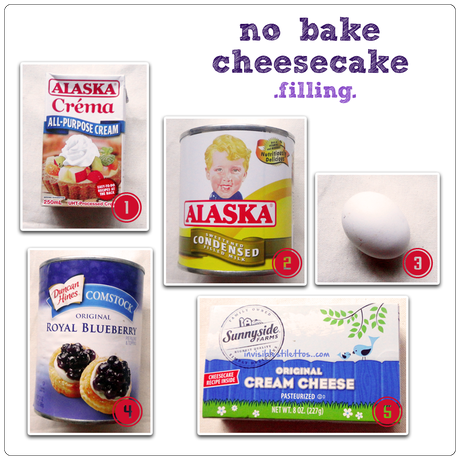 Okay, now that we have everything we need, let's start.  First, get your graham crackers and hazelnuts.  Place it inside a Ziploc bag, get your frustrations out, and smash the two ingredients using rolling pin until you achieve fine bits of graham and hazelnuts.  You can also use food processor if you have one or buy already crushed graham crackers and just ground then add the hazelnuts.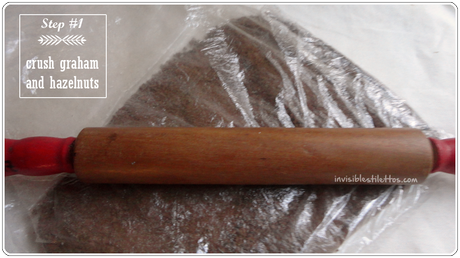 Next step, add the melted butter and sugar (if your graham crackers is not sweet already).  Mix until well combined.  You should have wet sand consistency.  Check if your mixture reaches this point by grabbing a handful and squeezing it.  If it clumps, then it's ready.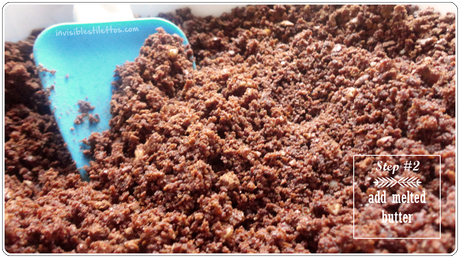 Get your container.  I'm using my tart pan for this because I do not want my cheesecake to be too thick.  Place the mixture onto the pan then press gently down using the back of a spoon or the bottom of a drinking glass.  I also placed the mixture on the groovy edges of my tart pan so that the filling would not stick to the sides of the pan and I will have a beautiful edge for my cake :)  Chill the crust for 15-30 minutes.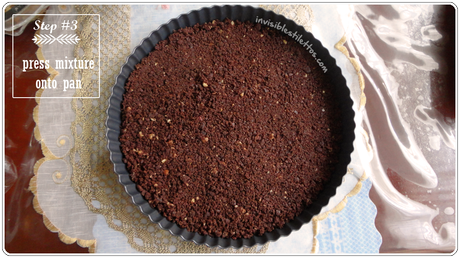 Next, okay this step I haven't got the chance to take a picture because I have to this recipe quickly, but here's how I did it.  First, in a sauce pan, pour in a carton of all-purpose cream then bring it to a simmer.  While waiting, crack an egg and place it in a clean bowl.  Whisk the egg until the yolk and white combined.  When bubbles start to form on edges of you pan, get a ladle then add some of the cream to the egg.  Slowly add the cream then whisk vigorously as you are adding it.  We are doing this so that the egg combines with the cream but slowly so that the eggs do not clump and turn into scrambled eggs :)  Once half of the cream is added to the egg, turn the heat to really, really low then add the egg and cream mixture to the remaining cream on the pan then whisk, whisk, whisk.  This ensures that the egg is really cooked and we are not eating Salmonella.  Once done, let the cream and egg mixture cool.  In a separate bowl, whisk a block of cream cheese and condensed milk together.  Once the cream and egg mixture cools down, add it to the cream cheese and condensed milk until well combined.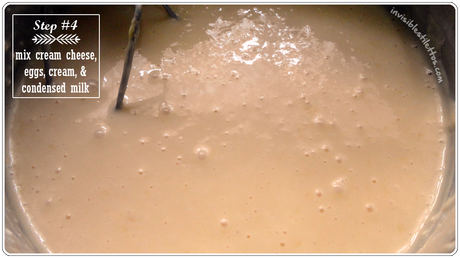 Pour the filling on the crust.  You will notice immediately that this filling sets much, much faster.  It will form a film on top.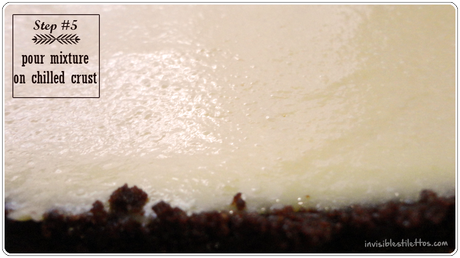 So what we have to do now is just chill it for 15-30 minutes until the inside becomes slice-able.  This is how it should look like after. :)  What I like about this version is it is somewhat custardy, almost like leche flan but tarter because of the cream cheese :)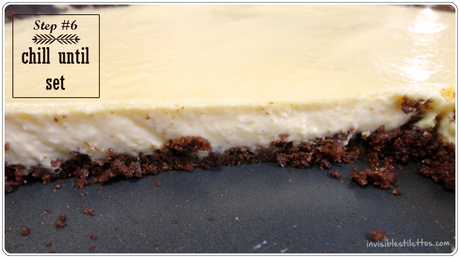 Just add the blueberry compote when ready to serve and you are done!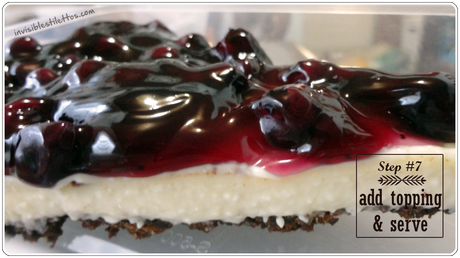 Hope you like today's recipe!
Have a great weekend!