Days to go: 45
We spent last Friday evening putting together everything for our favours.
1. Small piano and guitar place card holders to be displayed alternately on the tables
2. Personalised plectrums that have the text 'Salma & Richard 06-05-11′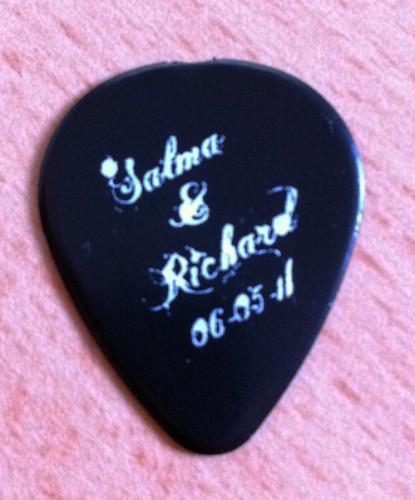 To tell the truth, we almost didn't have the pianos and guitars! Being Miss Organised I purchased the pianos and cards in January 2010 – and a couple of months later decided to sell them because I decided I didn't care much for them anymore! Luckily though, no one wanted them wherever I listed them, so I guess they were meant for us!
Originally we were going to display name cards on the pianos and guitars and just scatter the plectrums on the tables, but instead decided to make the most of the plectrums by displaying them in place of the name cards with a little message to our guests – this way people can sit by who they like on the tables they are allocated to! What do you think?
The text on the card says -
"Use this to make beautiful music with your loved ones and keep it as a memento of the day you shared with us."