Yes o! While most Nollywood actors and directors are either fighting each other, making babies or stepping down to serve the lord, one of its wonderful directors is up to something else, blogging! A few days ago, the Director of Make A Move opened a blog for his Facebook followers... although, you could sneak in
from here
if you're not one of his worthy followers.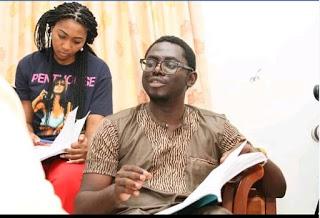 Niyi Directing
Niyi's blog has not gossiped about Genevieve yet or taught us how to
kiss
 cry for almost no reasons like Nse Ikpe Etim but he has started talking about Orisirisi cameras and how to create a headshot and hopefully, what annoys him most in the movie industry.
Niyi is also the Creative Director\CEO at Anthill Studios and rumors say he could almost kill for Jollof Rice but our sources are yet to confirm the presence of Jollof Rice on the blog.
Visit Niyi's Blog here
We love it!