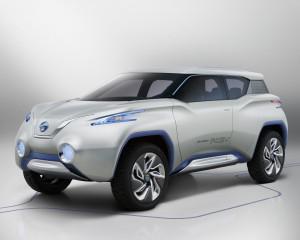 Nissan continues to be a leader in the eco-friendly auto industry with vehicles like the zero emission all electric car; the LEAF. Now they have stepped it up a notch and started to tackle the growing SUV demand with the TERRA.
The TeRRA SUV concept, unveiled yesterday at the 2012 Paris Motor Show, combines two outstanding Nissan strengths – SUVs and EVs – in a vehicle that is equally in its element off-road in the wild or gliding silently through a sophisticated urban setting.
Envisioned as "the one and only Zero Emission SUV" TeRRA builds on Nissan's success with urban-relevant SUVs and crossovers like Murano and Qashqai and asserts that its zero-emission expertise extends all the way to fuel cells.
Designed as a functional and flexible choice for tomorrow's youthful, "always on" consumers, TeRRA answers their aspiration for eco-friendliness along with a secure driving feel under any road conditions.
Check out the Nissan TeRRA SUV concept Image Gallery and the video below that reveals the inside of the new concept SUV.


Tweet
Embed...
2.
Auto-play
- Check here to start the video automatically
3. Choose a video display width. Suggested width is: 500px.
Select Video Width 350px400px450px500px 550px 600px 650px 700px
4. Copy resulting embed code below and paste it into your site HTML content:
Complete the above to get your embed code...