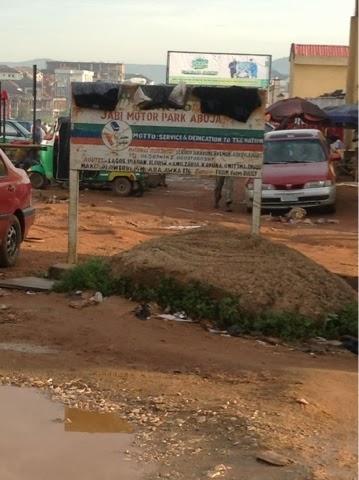 The shameful sight of the dunghill humans live, work and thrive in made my skin crawl literally. 
I do some interstate traveling and Ekiti State particularly is not blessed with an airport yet so I go by road. Unlike some people who think traveling by road is a curse, I actually enjoy it provided its comfortable.  
Do you live in Abuja or its environs? Then, you will know Jabi park. It's the disgusting sight graced with the stench of urine and weed (marijuana), its the place that doubles as a dunghill and car park or you might say interstate travel park. It's the  place where all manner of things are hawked and where you see people eat amidst litter and the local barber is at work shaving hair off local patrons all in the same vicinity. In short Jabi park is an eye sore. 
The stench hits you and make you dizzy, the sight makes you sick in your stomach and you begin to think you've made a mistake.
Now, I really don't care who's at fault and why this place is in such deplorable state, I just want both Government and citizens affected to clean up! We are Nigerians not Animals.
Below are pictures. Enjoy or....