Hello everyone.
Believe, i'm still committed to inspiring you and motivating you using Gods words and life experiences... But today we need to talk about corruption. 
As Nigerians we know that it's easy to blame the government for everything. It's no news that we have probably the most useless bunch in the world but blaming the government for your own faults? Nah.. Not cool.  
Ŵe blame government officials  for corrupt practices like they are the only ones corrupt in Nigeria. Have you looked in the mirror lately? That person you see, can she/he boldly say I'm a honest and upright citizen? I doubt.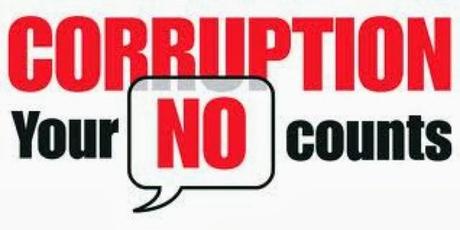 This post is not to tear anyone down but to build us up and remind us that a good country with minimal corruption has to be filled with citizens who are upstanding and not corrupt. Citizens who are committed to the growth and wellness of their country. Patriotism is not old fashioned my people. The leaders are not all guilty at least not all the time.
I have to give you this cool story. 
So I went to buy extensions to make my box braids... I took my jolly self to the market around law school and stopped at this shop to buy extensions I payed and took three of them. By the time I walked around the corner to the hair dressers we found out that the extensions had been cut into halves and sold as whole ones.  Inhad to buy more in order to get my beauftiful box braids *wink*
So I had one and half  and I payed for three!  I was shocked believe! If you ask that man who sold the attachment to me who is the the problem of Nigeria? I'm sure he will speak swiftly and say something along the lines of Jonnathan!! 
But dear sir,  you are the problem of Nigeria. You are the one who needs to change your ways you are the one who needs to get a honest life. 
All I want to say is, before you insult and criticize government officials look inwards and ask yourself  am I  a good citizen? I'm I doing my part to bring this nation down or make it better? 
Charity  they say begins at Home.