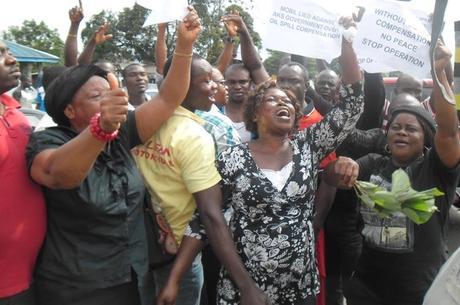 by Okon Bassey / ThisDay
The people of Eket federal constituency in Akwa Ibom State yesterday embarked on a mass protest shutting down the operations of Mobil Producing Nigeria Unlimited, a subsidiary of ExxonMobil in Ibeno and Eket, in the state
The mass protest was staged simultaneously around Mobil facilities, the Airstrip in Eket, Mobil Terminal in Ibeno and Mobil Housing Estate in Eket.
THISDAY checks revealed that the protest was in respect of the sum of N26.5 billion oil spill fund reportedly released by ExxonMobil through the state government to the four oil producing local government areas.
The protesters who chanted slogans with placards and trumpets, barricaded the oil company's  access gates, while a coffin with the inscription 'RIP Mark Ward' was kept at the gates of Mobil Terminal in Ibeno, amidst other banners and placards.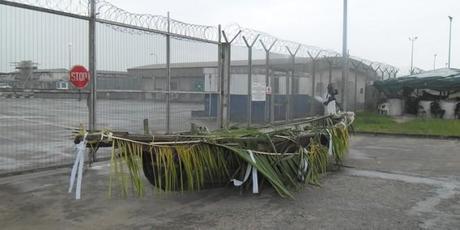 At the Mobil airstrip in Eket, plantain suckers where planted at the gates while the youths locked the gate with padlock in the full glare of a detachment of policemen who watched to prevent a degeneration of the crises.
Also seen at one of the deserted gates of the Mobil Terminal was a canoe, wrapped with traditional palm leaves and a white fowl, which the Ibeno protesters claimed found itself to the gate of the terminal from the river on its own, and dared authorities of the oil firm to remove the canoe if they had the guts.
The communities lamented that Mobil was insensitive to their plight, as evident by its refusal to pay the compensation for the 2012 oil spill incident that resulted in the discharge of more than 300 barrels of crude oil into the aquatic environment of the oil producing areas.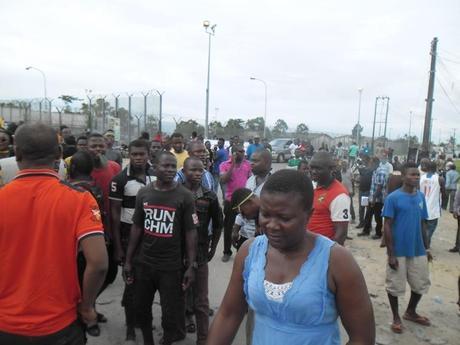 During the protest march, some prominent youth leaders under the aegis of Eket Federal Constituency Vanguard led by Mr. Isaiah Abia and Mr. William Mkpa, strongly scolded ExxonMobil for being insensitive to their plight of its host communities.
ExxonMobil, they said, lacked employment opportunities for the people of the community, operate on a deplorable condition of social infrastructure in the host communities, as well as hazards resulting from the exploitation by the oil firm.
They warned that failure of Mobil to address the ugly trend would leave them with no option than to put finality on their operation in their land.
The demonstrators also called for the immediate redeployment of the Managing Director of ExxonMobil, Mr. Mark Ward, over his persistent snub of all the overtures from the communities.
Addressing the protest at the company's terminal in Ibeno, Mr. Isaiah Abia said there was no going back in calling Mobil to order.
He said the protest march came at the expiration of the seven-day ultimatum earlier issued to the authorities of the company last week.
Abia said the people of the areas where totally against the notion that ExxonMobil wanted to use the oil spill compensation fund to execute projects in the communities, maintaining that such a notion was an attestation to the nonchalant attitude of Mobil.