Well ladies & gents, it isn't every day that I get a response from Nigella Lawson... you know, the head-to-toe gorgeous culinary goddess... or as she likes to refer to herself, the domestic goddess. Last weekend, I chose her Nutella Cheesecake as the dessert of choice for drinks with friends. I'm always suspicious of baking recipes that are stamped as "easy" or "effortless" because as I've said before, baking is a science.. if not an art form. Oh, that reminds me. I recently watched this amazing documentary and highly recommend it if you're into food docs... It was intense!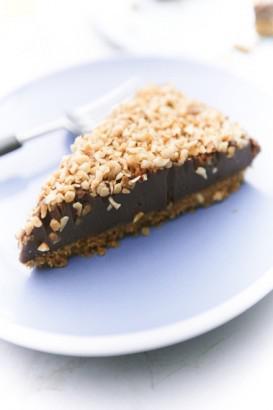 Back to the NUTELLA CHEESECAKE... How can cheesecake be easy? How can it be effortless? Right? Well, when Nigella is on the case, I guess it can be. She even admits herself that this is embarrassingly easy - it requires no baking!
Click here for more
 but the recipe is below.  
INGREDIENTS
250g digestives

75g soft unsalted butter

400g jar Nutella, at room temperature

100g chopped toasted hazelnuts

500g cream cheese, at room temperature

60g icing sugar
METHOD
Serves: 12 - 14
Break the digestives into the bowl of a processor, add the butter and a 15ml tablespoon of Nutella, and blitz until it starts to clump. Add 25g of the hazelnuts and continue to pulse until you have a damp, sandy mixture.

Tip into a 23cm round springform and press into the base either using your hands or the back of a spoon. Place in the fridge to chill.

Beat the cream cheese and icing sugar until smooth and then add the remaining Nutella to the cream cheese mixture, and continue beating until combined.

Take the springform out of the fridge and carefully smooth the Nutella mixture over the base. Scatter the remaining 75g of chopped hazelnuts on top to cover and place the tin in the fridge for at least four hours or overnight. Serve straight from the fridge for best results.

Additional information - for vegetarians make sure the cream cheese does not contain rennet.