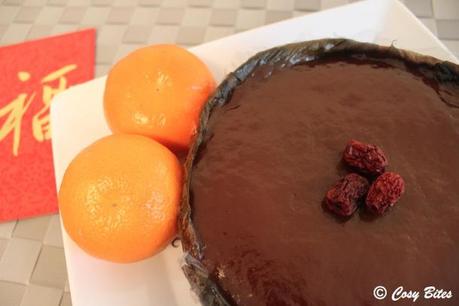 Nian Gao 年糕, a Chinese sticky rice cake, is one of the must-haves during Chinese New Year. It is auspicious to eat nian gao 年糕 during Chinese New Year because "nian 年" means "year" and "gao 糕" sounds like "高" which means "height". Eating nian gao 年糕 represents "年年高升" which translates to "achieving greater heights every year".
I decided to try my hands at making nian gao this year. The steamer that I have comes with a 6″ round steaming dish so I used it. On hindsight, it would probably be better to use a deeper dish. The nian gao will rise a little during steaming. When you use a steaming dish that is not deep enough, you'll end up with overflowed bits to the side and you'll have a hard time removing the nian gao from the steaming dish later (speaking from experience obviously).
You don't need a lot of ingredients for making nian gao. The main ingredients are glutinous rice flour and sugar. It is easy to make but you'll need a lot of patience. The recipe I saw requires 8 hours of steaming time. It took me about 6 to 7 hours to finish steaming the nian gao. My steamer has a timer allowing me to set it to 60 minutes each time. So every hour, I was checking the nian gao, topping up the water and setting the timer again.
Instead of using just brown sugar, I used a combination of both brown and white, caramelizing the white sugar. This gives the nian gao a nice brown hue.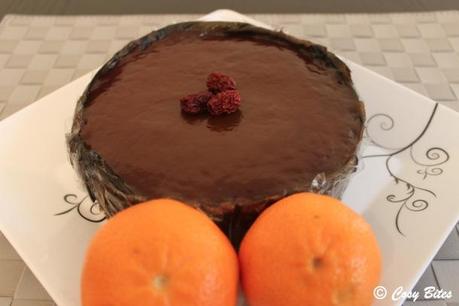 Here's the recipe for nian gao 年糕, adapted from mymalaysiabooks. I wish everyone a happy and prosperous year of the snake. 祝大家年年高升!
NIAN GAO 年糕
Makes one 6-inch round cake
Ingredients:
400 gram glutinous rice flour

300 gram brown sugar
400 ml water
100 gram granulated white sugar
1½ tablespoon cooking oil

Banana leaves
Method:
Blanch banana leaves in hot water to soften. Drain and wipe dry.

Line steaming dish or baking tin with banana leaves. Make sure that the banana leaves are higher than the dish or tin and there are no gaps in between (I learned this the hard way

). Set aside.
In a big bowl, add brown sugar and water and stir until the sugar is completely dissolved. Add oil and glutinous rice flour, and mix into a smooth paste.
In a saucepan, heat up white sugar over low heat until it starts to melt and caramelize. Keep a watchful eye. Remove caramelized sugar from heat as soon as it turns into a nice golden syrup. Do not burn it. Quickly stir the caramelized sugar into the glutinous rice paste.
Pour the paste mixture into the prepared steaming dish through a sieve (to remove any lumps), and steam on low heat for a good 6 hours.
Place a muslin cloth under the cover so that the water condensation will not drip into the nian gao. Remember to keep checking on the water for steaming. You don't want it to dry out.
The nian gao is cooked when it has a nice reddish brown color.