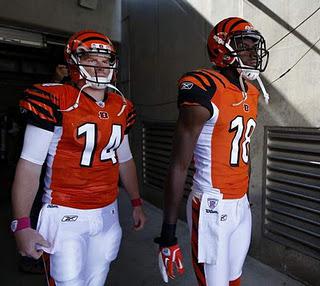 Photo: The Enquirer - Jeff Swinger
With the NFL's wildcard weekend just a few days away, the Beard and Stache gives you the full breakdown of the opening games! Guest Columnist Kris Fletcher from The Bleacher Briefings co-hosts with Troy Ballard!
- Are the Cincinnati Bengals a contender or a pretender?
- Do the Houston Texans have a shot without Matt Schaub?
- Will the New York Giants be one-and-done?
- Can the Atlanta Falcons win on the road?
- Who is the NFL MVP, Drew Brees or Aaron Rodgers?
- Are the New Orleans Saints the best team in football?
- What's value of Packers' back-up Matt Flynn?
- Will Tim Tebow pull a magic playoff win for the Denver Broncos?
- Who was the most underwhelming NFL team?
-Are the San Francisco 49ers a dark horse?
- Super Bowl predictions?