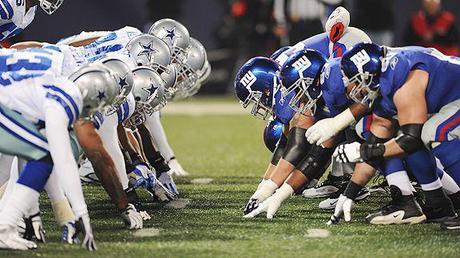 Photo: gossiprumors.info
- Adam Parker
Another week of action on the NFL gridiron has wrapped up and now, we're on the horizon of the final week of the regular season when the final pieces of the playoff pigskin puzzle will finally be put into place.
Week 16 was filled with a plethora of crazy results, at least as far as my predictions went.
Tim Tebow and the Broncos were frostbitten by the Bills up in Buffalo. The Lions obliterated the Chargers en route to the team's first playoff berth since 1999. The Bengals are one win away from the playoffs in what was thought to be a rebuilding season.
The Colts knocked off the division rival Texans for their second win of the season, and have now put themselves in jeopardy of losing the first overall pick in April's draft.
In Week 15, I went (8-8), and though it wasn't a huge improvement by any stretch of the imagination, I managed a (10-6) record in Week 16. Hopefully, I can finish out the regular season even better.
My Pick 'Em Record: 51-25
Now, onto my picks for Week 17!
Lions (10-5) at Packers (14-1)
This game might have meant more if the Packers had not stumbled against the Chiefs in Week 15 and were still in pursuit of perfection. However, since that's not the case and both of these teams have all but locked up their current playoff seeds, this might be a game where you see more backup players than usual. Regardless, the Packers are deeper and more talented than the Lions and I expect them to win this one handily.
Prediction - Packers win, 30-20.
49ers (12-3) at Rams (2-13)
The Rams are terrible. There really is no other way to put it. Steve Spagnuolo is likely on his way out as head coach, and Steven Jackson once again has had to play a team sport by himself. It's still a divisional game, but not one that matters considering the 49ers locked up the NFC West quite some time ago. It's unclear who will actually be on the field for both teams, but either way I have to give the edge to the 49ers.
Prediction - 49ers win, 24-14.
Jets (8-7) at Dolphins (5-10)
The Dolphins have played great down the stretch, and Reggie Bush - the former Heisman Trophy winner out of USC - seems to have finally found the system that allows him to be successful as a
runner
at the NFL level. That being said, the Jets need this game to give them any shot at the playoffs, so I can't go against them here.
Prediction - Jets win, 20-17.
Bears (7-8) at Vikings (3-12)
This could very well prove to be the ugliest game of the week by far. It seems like the Bears are throwing out a new quarterback every other week and Adrian Peterson will be out of action the next 8-9 months while he rehabs a torn ACL and MCL. Both offense are anemic, so defense will likely decide this one. I'd take the Bears' D over the Vikings' D ten times out of ten. Give me the Bears in this one, possibly being decided by a defensive touchdown.
Prediction - Bears win, 13-7.
Bills (6-9) at Patriots (12-3)
The Bills are nothing without Fred Jackson, so don't let last week's destruction of Tim Tebow and the Broncos cloud your judgment. The Patriots are on a mission to secure home-field advantage throughout the playoffs, so look for Bill Belichick to play his starters until he's comfortable that they have the game in hand.
Prediction - Patriots win, 31-14.
Panthers (6-9) at Saints (12-3)
The Saints are trying to improve their playoff seeding while the Cam Newton-led Panthers are playing for pride against a division rival and so Cam can pad his stats. Speaking of stats, Saints quarterback Drew Brees broke Dan Marino's record for most passing yards in a single season last week. Look for Brees to pile on the numbers against a poor Carolina secondary.
Prediction - Saints win, 34-20.
Redskins (5-10) at Eagles (7-8)
The Eagles were mathematically eliminated from the playoffs last week after the Cowboys lost the Giants. That being said, winning this game could be the difference-maker in whether Andy Reid retains his job next season. The Redskins are decent defensively, but there is no way they can muster the offensive firepower they would need to hang with the Eagles. Michael Vick and LeSean McCoy will be big in this one.
Prediction - Eagles win, 28-17.
Colts (2-13) at Jaguars (4-11)
The Colts haven't won away from Lucas Oil Stadium all season, and they're only one loss away from locking up the top overall pick in April's draft. Whether they decide to take Andrew Luck or auction the pick off, there is no time like the present for the Colts to
throw
a game if they must to secure this pick. Jacksonville will receive a gift in this one.
Prediction - Jaguars win, 17-10.
Titans (8-7) at Texans (10-5) 
The Texans have clinched the AFC South, their first playoff berth in franchise history, and are locked in as the No. 3 seed in the AFC. It wouldn't surprise me to see them rest a few players since the results of this game won't make any difference for them. That being said, Houston's defense is still one of the best in the league, and now that defensive coordinator Wade Phillips is back on the sidelines, I think the defense and a few nice plays from Ben Tate and T.J. Yates should seal this one.
Prediction - Texans win, 20-13.
Buccaneers (4-11) at Falcons (9-6)
The Falcons need to win this one, not only so they can get the momentum back before the playoffs, but also to get some pride back after they were embarrassed by the Saints in New Orleans. The Falcons will win this one in a big way to send a message that they're not finished yet.
Prediction - Falcons win, 34-14.
Ravens (11-4) at Bengals (9-6)
If the Bengals win, they could potentially make the playoffs as a wild card, which is why they have a buy one-get one free ticket deal to try and fill the stadium to support this young and exciting bunch. If the Ravens win, they clinch the division and a first round bye, so there's a lot at stake for both teams. I can't see Ray Lewis allowing the Ravens to lose this game. He's hungry for his second Super Bowl ring, and if he has to hunt some Bengals to get it, then so be it.
Prediction - Ravens win, 24-17.
Steelers (11-4) at Browns (4-11)
The last time these two teams met, it was a one score win for the Steelers. It's unclear whether Ben Roethlisberger will play this week since Pittsburgh has already clinched a playoff spot, and after how Charlie Batch played last week, it might be better to rest Big Ben anyway.
Steelers win, 23-14.
Chiefs (6-9) at Broncos (8-7)
There are quite a few interesting story lines leading up to this game. Chiefs quarterback Kyle Orton returns to Denver where the Broncos let him go in favor of Tim Tebow. Even though the Chiefs aren't in the playoffs, you know interim head coach Romeo Crennel will have his players fired up about 'winning it for Orton', but since the Broncos still have a chance to clinch the division and make the playoffs, I feel like they just want and need this game more.
Prediction - Broncos win, 20-17.
Chargers (7-8) at Raiders (8-7)
The Raiders in a 15-round title fight with Denver for the division crown, and they need to get through the Chargers to give themselves a chance. I look for Richard Seymour and the rest of Oakland's defense to play some inspired football on Sunday and carry the Raiders to a win.
Prediction - Raiders win, 23-20.
Seahawks (7-8) at Cardinals (7-8)
Neither of these teams really have much to play for outside of divisional bragging rights. Marshawn Lynch has been running hard for Seattle all season, including surpassing 100 yards last week against San Francisco's league-leading rush defense. I expect more of the same here.
Prediction - Seahawks win, 20-14.
Cowboys (8-7) at Giants (8-7) on Sunday Night Football
The stakes don't get much higher than this. The winner of this game wins the division and heads to the playoffs while the loser watches from home. The Giants have seen a resurgence in their pass rush led by second year player Jason Pierre-Paul. Tony Romo is likely to play despite his bruised hand, but I think the G-Men's pass rush will ultimately prove too tough to handle. The Giants win the game and the division.
Prediction - Giants win, 27-20.
Be sure to follow Beard And Stache on Twitter 
@BeardAndStache
, 
and also Adam 
@Adam_Parker43
, Like our Facebook page 
HERE
!