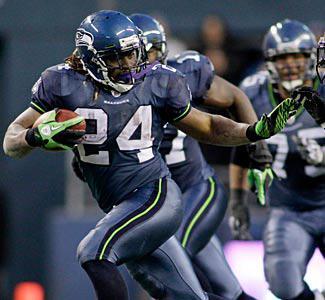 Photo: newsnnews.co.cc
- Adam Parker
Another week of NFL action in the rear view mirror, and after going (13-3) with my picks in Week 14, I came back down to earth with what can only be called an abysmal (8-8) record in Week 15.
I admit, some of these games were coin flips, but I had no idea, and I imagine neither did you, that a Kyle Orton-led Chiefs team, one that has been reduced to a borderline practice squad with all the injuries they've incurred, would knock off the undefeated Packers in such dominant fashion.
Oh, and if the Packers losing their first game of the year wasn't enough craziness to fill one weekend, what about the Colts winning their first of the season?
Week 15 was a crazy and unpredictable mess, and my Pick 'Em record for that week clearly reflects the torrential hurricane of upsets that befell the league.
My Pick 'Em Record: 41-19
Now, onto my picks for Week 16!
Texans (10-4) at Colts (1-13) on Thursday Night Football
Don't read anything into the Colts' win over the Titans or the Texans' loss to Cam Newton and the Panthers. This one won't be close. I expect a solid game-manager type game from T.J. Yates while Arian Foster and Ben Tate gash the Colts' porous run defense on a way to an easy victory.
Prediction - Texans win, 27-17.
Broncos (8-6) at Bills (5-9)
It appears that Tim Tebow is indeed human after all, folks. But regardless, he
is
 still 7-2 as Denver's starting quarterback, and the team just seems to, for one reason or another, put forth a collectively better effort when Tebow is the
man
in the huddle. The Bills, meanwhile, can't muster up any offense without Fred Jackson in their backfield, and after the 200-yd day they gave up to Reggie Bush and the Dolphins last week, I don't expect the Bills to be able to contain Denver's prolific ground attack much better.
Prediction - Broncos win, 24-10.
Cardinals (7-7) at Bengals (8-6)
Call me crazy, but I like the desert birds in this one. I know that Kevin Kolb is still recovering from a concussion, and more than likely we'll see John Skelton under center for Arizona against the star rookie duo of Andy Dalton and A.J. Green. It seems like the Bengals should win this one on paper, but Arizona are winners of their last four, and momentum plays a big part in these late season matchups. Arizona rallies to a road one win in this one.
Prediction - Cardinals win, 23-20.
Jaguars (4-10) at Titans (7-7)
After losing to a terrible Peyton Manning-less Colts team last week, I'd like to think the Titans have enough pride to rebound and defeat a Jags' team that's in shambles. Two stud running backs in Maurice Jones-Drew and Chris Johnson so the quarterback play will decide this one. I know there's a little uncertainty right now about whether the Titans should go with the veteran in Hasselbeck or let 8th overall pick Jake Locker take the reigns. Either way, the end result should be a win for Tennessee.
Prediction - Titans win, 20-17.
Raiders (7-7) at Chiefs (6-8)
The Chiefs are riding a crazy tidal wave
high
 leading up to this one after bringing the Pack Attack juggernaut to a screeching halt. Kyle Orton had a phenomenal game for Kansas City, and the defense led by Tamba Hali was active and opportunistic.
The Raiders, on the other hand, literally gave one away in classic choke fashion to the Lions last week, losing because no one on their team could stop the Stafford to Megatron connection in the fourth quarter. I've always liked Kyle Orton as a starting quarterback, and I think he continues his great play on the way to a win over the hated rival Raiders.
Prediction - Chiefs win, 24-20.
Dolphins (5-9) at Patriots (11-5)
Tom Brady and the Pats' are coming off a comfortable win over the Tebow clan in Denver while the Dolphins made easy work of the Bills thanks to Reggie Bush's career day on the ground. The Patriots are on a mission to the playoffs though, and the 'Phins will be helpless against Brady's offensive onslaught.
Prediction - Patriots win, 31-20.
Giants (7-7) at Jets (8-6)
As it usually is leading up to this matchup, Rex Ryan has been running his mouth off to anyone with a microphone looking for a sound bite. The Giants, however, prefer to let their play do the talking, which is why I think the G-Men will come out on top in this one.
Prediction - Giants win, 24-20.
Rams (2-12) at Steelers (10-4)
To say that Big Ben and the Steelers' offense didn't look like themselves against the 49ers is huge understatement. However, despite how bad Pittsburgh looked in that one game, the Rams have looked that bad all season. Which is why, even if the Steelers do decide to rest Roethlisberger, I still like them to triumph over a Rams team that's been an utter disappointment this season to say the least. Steven Jackson can't do it alone, and because of that, I'll go with Pittsburgh.
Prediction - Steelers win, 17-10.
Vikings (2-12) at Redskins (5-9)
The Vikings are terrible. There's no other way to put it. Adrian Peterson is their only consistent offensive threat, and the Redskins, despite their poor record, destroyed the Giants last week and will make easily dispose of an inferior Minnesota team.
Prediction - Redskins win, 24-13.
Buccaneers (4-10) at Panthers (5-9)
I made the mistake the last time these two teams met of betting against Cam Newton. I won't be making the same mistake this time. Newton has a had a Rookie of the Year-worthy season on an average Carolina team. The Bucs' are a complete mess, and I look for Newton and company to take advantage of that when they host the squad of awful swashbucklers.
Prediction - Panthers win, 27-17.
Browns (4-10) at Ravens (10-4)
The Browns gave the Steelers a run for their money a few weeks back, and though I think it's a possibility that they could do it against their other AFC North rival, I just don't honestly see it happening. The Ravens need this win and a Steelers loss to clinch the division. Look for offensive coordinator to call Ray Rice's number early and often as Baltimore rides the former Rutgers workhorse to victory.
Prediction - Ravens win, 20-10.
Chargers (7-7) at Lions (9-5)
San Diego seems to be finally hitting their stride after blowing out the Ravens last week, while Detroit relied on the Stafford to Calvin Johnson connection in a comeback win over Oakland. I may take some flack for this, but I think I'm going to take San Diego over Detroit. I have not been a fan of Philip Rivers' play at all this season, but it appears, thankfully for Chargers fans, that he is finally turning the corner. The Bolts will go as far as Rivers can take them, and I definitely think he can take them to a road win at Ford Field.
Prediction - Chargers win, 31-27.
Eagles (6-8) at Cowboys (8-6)
This game is crucial for both teams in a tight NFC East divisional race. The Cowboys currently lead the division after the Giants' loss to Washington last week, but they were also destroyed by the Eagles in their first meeting. To make matters worse, Michael Vick is healthy for Philly and LeSean McCoy is arguably the best running back in the NFL right now. The Eagles are riding a two-game winning streak, and seem to finally be starting to figure it out after having an unacceptably poor start to the season. If Philadelphia wants to have any hopes of keeping their playoff hopes from flat-lining, they need to win this game, which I believe they will.
Prediction - Eagles win, 28-20.
49ers (11-3) at Seahawks (7-7)
The toughest pound-for-pound running back in the league, Seattle's Marshawn "Skittles" Lynch will be taking on what is likely to be the toughest challenge he'll face all season when the Seahawks host the NFC West Champion 49ers and their top-ranked rush defense. If Lynch is unable to get it going, that will spell doom for Seattle's offense.
Prediction - 49ers win, 27-17.
Bears (7-7) at Packers (13-1) on Sunday Night Football 
The Bears are expected to start Josh McCown at quarterback in place of interception machine Caleb Hanie. Too bad it won't make any difference against Green Bay, who will be out for blood after losing their chance at a historic undefeated season last week. The Bears should save themselves from embarrassment and take an early hibernation.
Prediction - Packers win, 30-13.
(9-5) Falcons at Saints (11-3) on Monday Night Football
Both of these NFC South squads come into this game after comfortable wins. This looks like a fairly even matchup on paper, but to be perfectly honest, I don't see how the Falcons or almost anyone for that matter, can stop Drew Brees and the Saints' air attack.
Prediction - Saints win, 30-21.  
Be sure to follow Beard And Stache on Twitter 
@BeardAndStache
, 
and also Adam 
@Adam_Parker43
, Like our Facebook page 
HERE
!