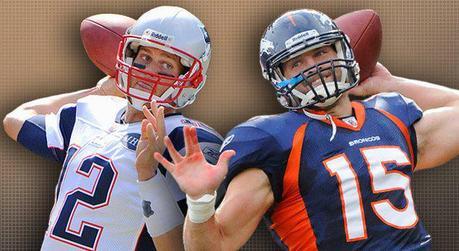 Photo: profootballweekly.com
- Adam Parker
Another week of NFL action in the books, and I managed to improve upon my average at best (10-6) mark from Week 13 picks by going (13-3) in Week 14.
Some of the Week 14 games that threw me off were the 49ers losing to the Cardinals?!? I mean, let's be honest, how many of you had the desert birds in that game? Not many I can imagine.
The Cowboys lost another close one in the final moments, but Jerry Jones seems committed to head coach Jason Garrett for the foreseeable future, so we'll have to wait and see how that pans out.
The Philadelphia Eagles showed signs of life after knocking off a hot Miami Dolphins team, while the Packers continued to cruise through their schedule, their latest obliterated victim being the Oakland Raiders.
And to top it all off, Tim Tebow once again pulled a 'John Elway' out of his hat and led the Broncos to an overtime win over the Bears.
My Pick 'Em Record: 33-11
Now, onto my picks for Week 15!
Jaguars (4-9) at Falcons (8-5) on Thursday Night Football
Let's be honest, the Jaguars are like the Rams of AFC. They don't have any other legitimate options on offense outside of workhorse running back Maurice Jones-Drew. The Jags are a complete mess, and the only reason they won last week was because they were playing a Tampa Bay team that's just as bad as they are. The Falcons destroy the Jaguars on paper, and I expect more of the same when they take the field on Thursday.
Prediction - Falcons win, 31-13.
Cowboys (7-6) at Buccaneers (4-9) on Saturday Edition of Thursday Night Football
The Cowboys lost again last week in the final minutes, but they're just far too talented to lose to an under-performing Bucs' squad. I'll take the Cowboys, even with Demarco Murray likely unable to play. Hopefully Tony Romo can continue to play well and Jason Garrett won't make another coaching blunder on the sidelines to cost his team yet another game they should have won.
Prediction - Cowboys win, 28-20.
Panthers (4-9) at Texans (10-3)
The Texans are coming off a last-second come from behind victory last week over the Bengals, where they clinched the AFC South and their first playoff berth in franchise history. T.J. Yates seems to be the perfect game manager for Houston, despite being a rookie. Look for Houston's running game and defense to carry the day here.
Prediction - Texans win, 27-17.
Redskins (4-9) at Giants (7-6)
These teams are heading in opposite directions in the NFC East. The G-Men are trying to maintain their hold on the division's top spot, while the Redskins are already looking towards April's draft where hopefully, Mike Shanahan finally drafts someone competent to play the quarterback position in the nation's capital.
Would Baylor's Robert Griffin III be that guy? You may not like it Washington, but the only reason you kept it close with New England is because they field probably the worst collective defense in the NFL week in and week out. The Giants, on the other hand, are no slouches on defense, and they'll win this one because of it.
Prediction - Giants win, 24-13.
Dolphins (4-9) at Bills (5-8)
This one looks like it's going to be a snoozer. Tony Sparano was recently fired as the Dolphins' head coach and the Bills are without their main offensive cog in running back Fred Jackson. I expect this one to be a close game, with not many points from either side. However, I think the Dolphins make enough plays to come out on top in the end.
Prediction - Dolphins win, 13-10.
Seahawks (6-7) at Bears (7-6)
This may surprise you, but I'm going with the upset in this one. I'm taking the Seahawks over the Bears at Soldier Field, mainly from the standpoint that I have no confidence whatsoever in Bears' quarterback Caleb Hanie, and with Matt Forte - the only bright spot in Chicago's offense without Jay Cutler - still hurt, I think Marshawn "Skittles" Lynch will do his beast mode thing again and Seattle will ride him to a W.
Prediction - Seahawks win, 23-14.
Saints (10-3) at Vikings (2-11)
This one won't be remotely close. The Saints have always been an aggressive and opportunistic defense, and against Minnesota's quarterbacks, whether they trot Joe Webb or rookie Christian Ponder out there on Sunday, New Orleans will rev up the pressure even more. Drew Brees will have a field day against the Vikes' secondary, especially since they're playing in a dome.
Prediction - Saints win, 35-13.
Bengals (7-6) at Rams (2-11)
Outside of the Eagles, the Rams have been the biggest disappointment in the league this season. Quarterback Sam Bradford has regressed after garnering Rookie of the Year honors last season, and as usual Steven Jackson is forced to be a one-man band again. Meanwhile, the Andy Dalton to A.J. Green rookie connection has been explosive from Day 1, and I expect more of the same as long as the Bengals can protect Dalton from Chris Long and company.
Prediction - Bengals win, 20-10.
Titans (7-6) at Colts (0-13)
Another week passes, and the Colts are still Peyton Manning-less, and more importantly, still winless. Indy is counting down the days on the calendar until April's draft, and I have no doubt that Matt Hasselbeck and a seemingly revitalized Chris Johnson can get it done against a Colts team that has essentially turned into a glorified bye week to every opponent they've faced thus far this season.
Prediction - Titans win, 24-10.
Packers (13-0) at Chiefs (5-8)
The Chiefs fired Todd Haley as head coach earlier this week, and defensive coordinator Romeo Crennel has taken over on an interim basis. But it doesn't ultimately matter who KC's coach is, because they have no chance in this game whatsoever with all the injuries they've suffered this season. All Aaron Rodgers and co. really have to do is show up and keep doing what they've been doing to win this one in blowout fashion.
Prediction - Packers win, 38-13.
Lions (8-5) at Raiders (7-6)
This is a tough one to gauge. The Raiders are still licking their wounds after going up to Lambeau and getting curb stomped by Aaron Rodgers and co. while the Lions are coming off an unimpressive 34-28 win over an Adrian Peterson-less Vikings squad. This one's going to come down to who wants it more, and at this point, I think Oakland is that team. Winning this one keeps the Raiders in striking distance of the AFC West crown, and all they'll need is a few big plays from Carson Palmer in the 'vertical passing game' against an abysmal Lions secondary. Game. Set. Match. Raiders.
Prediction - Raiders win, 23-20.
Patriots (10-3) at Broncos (8-5)
This is the one you have all been waiting for! Not Brady vs. Manning or Brady vs. Rodgers or Brees, but Brady vs. Tebow! The Broncos are unquestionably the hottest team in the NFL right now. Tim Tebow's late-game heroics and Denver's defense are the biggest reasons why. I know I said earlier on this season that I wouldn't bet against Tebow and Denver again this season, but I'm just not sure if I can bet against Tom Brady here, no matter how terrible the Patriots' defense might be. After all, Tebow may be a winner, but Brady has been 'winning' since before Tebow was even in the NFL.
Prediction - Patriots win, 34-24.
Jets (8-5) at Eagles (5-8)
Simply put, the Eagles' season ended a while ago and they're playing for pride at this point. On the other hand, the Jets' playoffs essentially started about two weeks ago, and they need to continue winning if they want to be playing postseason pigskin instead of watching the games at home from their couch. The Jets need and want this one more, so I'll take them.
Prediction - Jets win, 21-17.
Browns (4-9) at Cardinals (6-7)
The Browns have all but given up this season, and the Cardinals are in a similar situation. However, Arizona also just knocked off the NFC West Champion 49ers last week, so that should give them the boost in confidence they need to get the job done at home against the Browns. Oh, and did I also mention they have some guy named Larry Fitzgerald on their team? In case you hadn't heard, he's pretty good.
Prediction - Cardinals win, 20-13.
Ravens (10-3) at Chargers (6-7) on Sunday Night Football
This is an important game for both teams. The Ravens need to win to stay ahead of the surging Steelers in the AFC North, and despite the Tim Tebow high that Denver is riding right now, the Chargers still aren't mathematically eliminated from that division just yet, and if they can win this one and see Denver lose to the Patriots, they'll be right back in it. However, Ray Lewis is expected to be back for Baltimore this week, and the quarterback's worst nightmare in Terrell Suggs will probably have Rivers eating turf more times than he would like. Sprinkle in some Ray Rice and the Ravens should prevail.
Prediction - Ravens win, 27-20.
Steelers (10-3) at 49ers (10-3) on Monday Night Football
Outside of the Brady/Tebow bonanza up in Denver, this is probably the game of the week. The 49ers are coming off a close loss to the Arizona Cardinals where quarterback Alex Smith looked terrible. Meanwhile, the Steelers are coming off their fourth straight win. Who needs this one more? I'd say that's pretty much a toss up, but if Big Ben is able to go for Pittsburgh, I like the Steelers to grind out a tough win at Candlestick Park.
Prediction - Steelers win, 24-20.
Be sure to follow Beard And Stache on Twitter 
@BeardAndStache
, 
and also Adam 
@Adam_Parker43
, Like our Facebook page 
HERE
!