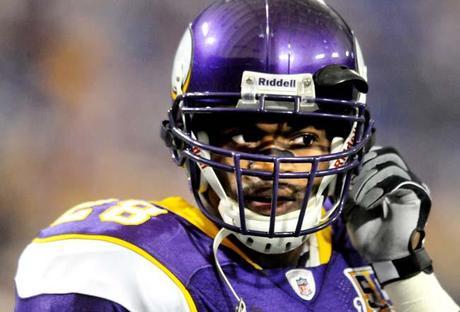 I understand that the players are pretty upset with the current situation of labor talks between them and the owners. But what Adrian Peterson said just minutes after the owners locked out the players. To describe how he feels the players have been being treated during the talks was a bit crazy if you ask me. The quote comes from yahoo's shutdown corner. Adrian Peterson was quoted saying "It's modern-day slavery, you know?". 

This quote is total outlandish, can somone tell me how this makes sense when i think of a slave i think of someone who has no free will, no power, and no say or control in anything. All of these things do not cover NFL players, you have(had) a union which is very powerful, your making millions each year and you all have the right to say anything that you want because of your status. Now your telling me that your a slave that is pathetic honestly.

Peterson also went on to say. "But there are people working at regular jobs who get treated the same way, too, with all the money". I understand they have all the money too, but the money they have probaly is nowhere compared to you.
If i was making the money you were and the position i was in i wouldn't exactly consider my self a slave to the NFL. You have the right to negotiate a contract. No one with a regular job has that they may to some degree but certainly, not to the degree of an NFL player such as Adrian Peterson.
The last thing that really irritated me was when Adrian Peterson said " 'Hey — without us, there's no football.'" this statement is true but with no owners there is no football as well. If this deal is going to get done anytime soon the sides need to get together and maybe make some sacrifices. Because at the end of the day they truly are one entity but, at the pace their going who knows when this will happen.