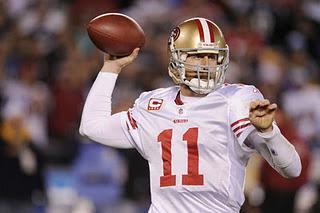 Photo: Zimbio.com
- Troy Ballard
When Jim Harbuagh was hired as the new coach of the San Francisco 49ers, he was adamant about keeping Alex Smith as the starting quarterback, despite Smith's immense struggles since being drafted.
Fast forward 17 weeks, and Harbaugh looks like a genius. Along with the rest of the San Francisco team, Smith has exploded this season, making almost no mistakes, and dishing the ball on dimes down field. Since Smith had caught fire, the 49ers have marched to an incredibly impressive (13-3) record, and a possible first-round bye in the playoffs.
This season, Smith has eclipsed the 3,000 yard mark for the first time in his career, posted a 90.1 QB rating, has tossed 16 touchdowns, and has only thrown five interceptions. Breaking personal career bests in every category, Smith will be leading San Francisco into the playoffs for the first time since being drafted.
Although Smith has not posted mind-numbing numbers similar to other quarterbacks like Drew Brees and Aaron Rodgers, he has captained a steady and consistent offense. The way that Harbaugh uses Smith is not in his traditional role, and he has him playing the role of game manager.
The 49ers will never ask Smith to drop back and throw 40 times a game, (like has has in the past), and the center of the offense is based around a solid and consistent rushing attack. With the threat of Frank Gore and Kendall Hunter out of the backfield, it has opened up Smith's arm and has allowed him to flourish in the NFL.
There is almost no question in my mind that Smith is a lock to win the Comeback Player of The Year award. Given that the 49ers were thought to be nothing more than another NFC West door-mat, Smith has kept the offense consistent and moving, and has been a huge key to San-Fran's success.
Another possible selection for CoY is New Orleans Saints running back/return specialist Darren Sproles. I have to tip my hat to Sproles, who is currently leading the NFL in all-purpose yards, and he has far exceeded expectations that were left by Reggie Bush. However, the majority of Sproles success is because of Drew Brees and a killer set of talent on the Saints offense, and he reaps the rewards of not being the biggest threat on the field.
Smith has seemingly went from what appeared to be nothing more than a first-round bust, to one of the NFL's most consistent and safe quarterbacks. The personal improvement in Smith is ten-fold, both mentally and physically, and the voters have to respect what he has accomplished with the 49ers.
Check out Adam Parker's stance on why Darren Sproles is the CoY!
Be sure to follow Beard and Stache on Twitter @BeardAndStache, and also Troy @TroyBallards, Like our Facebook page HERE!