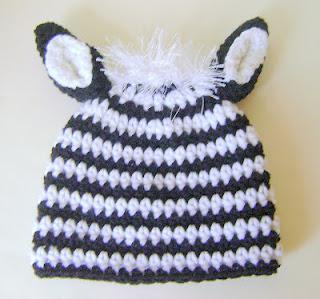 Here is a handmade newborn crocheted photo prop zebra hat that would look so cute on any baby!
Made with soft yarn and fur yarn, this hat is 5 1/2" in length and 12" around. Black and white in color, this hat has two ears and fur yarn between the ears. 
Hand washing and drying flat is recommended to help retain shape. 
Made for a newborn's first photo shoot, this hat will fit up to 3 months. Imagine how adorable your newborn would look in this! Take some photos that will be cherished for years!!!!