NEW WREATH LISTED IN OUR SHOP!!!
Welcome to My Garden Wreath
Just click on the wreath to be taken to our Etsy page!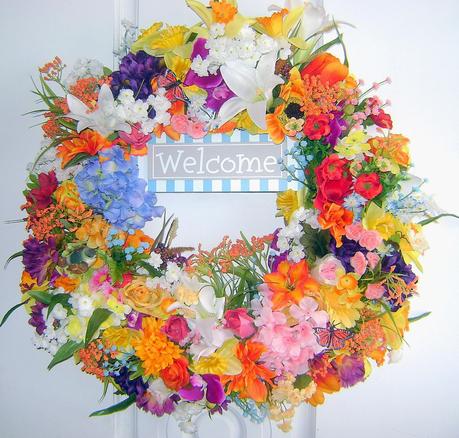 This beautiful big floral wreath is called Welcome to My Garden and is a wonderful accent for any home.
Full of beautiful, colorful flowers, this handmade wreath is made with an 18" wreath base but with the flowers is 24" tall and 23" across, not counting the leaves. There are sprigs of roses, small flowers, larger flowers and many more wonderful flowers. Each one is secure and lovely to look at. A Welcome sign is across the wreath and secure also.
Flowers of all colors are on this wreath bringing Spring and Summer alive to any where you hang it. Please note if you do hang this wreath outside, please make sure there is an overhang to protect it.
There is also a little bird and some butterflies to make your Garden Wreath a little more Summery!!!
As with all our wreaths, they are made with love and quality items. We take pride in our wreaths!
These wreaths are beautiful in the pictures but never as beautiful as in real life!