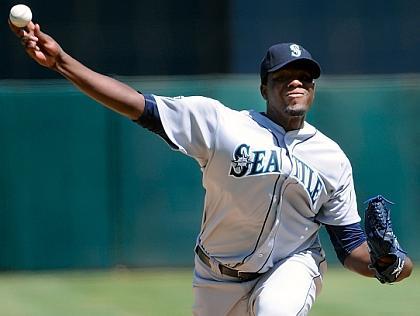 The rich got richer as the New York Yankees pulled of a huge trade Friday, sending catching prospect, Jesus Montero, to the Seattle Mariners for 22-year-old pitching phenom, Michael Pineda. Pineda, who turns 23 on Wednesday, will likely slide into the number two slot for the Yankees' rotation, following another 6-foot-7 ace, C.C. Sabathia.
The Yankees also signed 36-year-old starting pitcher Hiroki Kuroda, formerly of the Los Angeles Dodgers. Kuroda, who had an ERA of 3.07 in 32 starts for the Dodgers in 2011, will probably follow Pineda in the starting rotation. With Ivan Nova, Phil Hughes, A.J. Burnett, and Freddy Garcia still on the roster, the Yankees suddenly have a surplus of starters for 2012.
Despite winning the AL East with 97 wins in 2011, the Yankees were vulnerable in regards to their starting rotation, which was a patchwork affair for most of the season. Despite their lack of big name starters last season, aside from Sabathia,  the Yankees managed to have the American League's fourth-best team ERA at 3.73. They also led the league in strikeouts with 1,222 team K's.
For a team whose offense boasts the likes of Derek Jeter, Curtis Granderson, Mark Teixeira, Alex Rodriguez, and Robinson Cano, the prospect of a potentially dominating Yankees pitching staff has to vault the team to World Series favorites even before pitchers and catchers report to spring training this season.
With the Boston Red Sox undergoing somewhat of a transition in 2012 under new skipper Bobby Valentine, and the Tampa Bay Rays likely to still be playing to a half-empty stadium in a small market, the Yankees might have their way this season, leaving their AL East opponents behind early on.
While the Rays offense isn't as potent as the Yankees and Red Sox, their pitching staff is one of the league's best, and youngest. David Price, Jeremy Hellickson, and James Shields lead a Rays staff that finished 2011 with a team ERA of 3.58, along with a 1.21 WHIP. The Rays added Luke Scott last week to strengthen their lineup. Scott, who will likely be the team's designated hitter brings a powerful left-handed bat to a Rays team that was eighth in slugging percentage in the American League last year.
With the Boston Red Sox wunderkind GM, Theo Epstein, having moved on to bigger challenges with Chicago's National League club, the Red Sox will try and recover from their historic collapse at the end of 2011. With Adrian Gonzalez, Dustin Pedroia, Jacoby Ellsbury, and Kevin Youkilis still hitting in the Red Sox's everyday lineup, 2011′s highest scoring team will still be a playoff contender despite the Yankees' additions this offseason.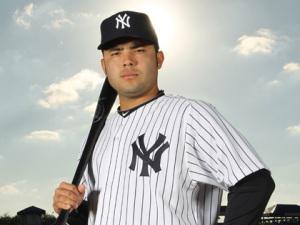 Jesus Montero
While the Yankees got a young pitcher with top-quality pitching ability, they did give up a potential future All-Star. Jesus Montero had been pegged as the next big thing in New York for the last couple of years. Montero finally enjoyed a brief stint in the big leagues last year, and did not disappoint. In 18 games and 69 plate appearances, Montero hit four home runs, drove in 12, and had an on-base percentage of .406. The Mariners, who are constantly in need of help on offense, may have found a new star with Montero, as the great Ichiro's career may be drawing to a close in the next couple of years.
While the Yankees may someday regret parting with Montero, GM Brian Cashman pulled of a bold move which brings a potential future All-Star hurler to the Bronx. While being flush with cash as usual, and being able to spend liberally to acquire almost any top free agent, the Yankees also currently have one of the league's best farm systems.. Their smart trade last week to acquire Pineda may have bolstered the team's chances to capture their 28th World Series championship sooner, rather than later.
-James Kries