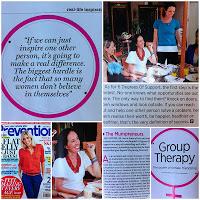 It's no secret that 2013 is going to be bigger and better than ever, for whatever reason, no matter who you are... how can you not think so when we're still in those early days of new commitments and resolute resolutions?!
My eldest daughter Mimi started kindergarten two days ago and is loving "high school" and her new uniform soooo much.  The only downside, according to her, is that wearing shoes all day makes your feet hot and she doesn't understand why they're not giving out homework!  Her little sister Lotti, who's now in the 'big class' at preschool a couple of days a week, is bemused by all the fuss over Mimi's "blue dress" (uniform) and all the attention she receives from the Year-6 'buddies' in the playground when she arrives... her turn will come, and when it does, I don't doubt she'll revel in her own blue-dress-hot-shoe-moment.
As for me, I've been busy trying to enjoy every last moment of holidays with my two little girls, knowing that from this week onwards, they're growing up and will be spending many of their awake hours with a new teacher, who no doubt is more adept at teaching, but may not have their hearts always in their hands.
There's been some craft over the holidays, but mostly it's been fun in the sun... but fear not, I have plans for Valentines Day and will start posting plenty of pink soon enough.
The second best thing that happened to me this week, is to finally see myself in a national women's magazine.  I gave an interview last year and went to a fun photoshoot, but at long last I got to hold the glossy mag in my hand and sneak a peak at myself and my friends playing real-life "inspirations".  I've posted a few happy-snaps out of the magazine article (click image to enlarge), feel free to purchase your own edition at your local newsagent to read the whole interview / story... it's all about the benefits of working in groups - and of course you can read all about the concept of 6 Degrees of Support by clicking here for the link to my blog, or here to purchase a self-help guide on how to set up your own group!
It's so nice to be back on line, I can't wait for a creative year for all of us!
Best wishes,
Linda.