New!!! St. Paddy's Crochet Shamrock Magnets!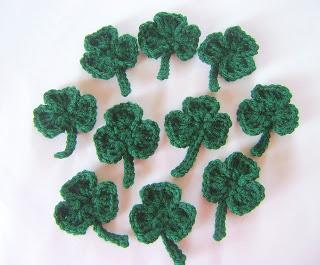 New in my shop is a set of 10 beautiful handmade crochet shamrocks with magnets on the back of them. Made with worst weight yarn, these cute little dark green shamrocks are 3" tall and 2 1/2" wide and with the magnets glued to the back will stick anywhere you want.
The first picture of these cuties was taken with them on my refrigerator so you can see how well they stay. Give as gifts on St. Paddy's Day or stick them in work, at home or anywhere you want to let people know you are celebrating St. Patrick's Day! Just please, do not stick to your computer!!!
Celebrate St. Paddy's with these little guys and just maybe they will bring you luck!!!!