Lakme Absolute Gel Stylist and Gloss Stylist Range- Product Information and Prices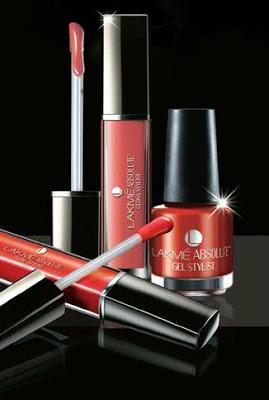 Another release by Lakme!!
Lakme Absolute Gel Stylist (Nail Paint) and Gloss Stylist (Lip Gloss)
Range
. Highly glossy and rich in color, this range brings a number of options in nail paints and glosses.
Lakme Absolute Gel Stylist
This break-through product range aims to introduce the global trend of gel based manicures in the country. It comes with a highly pigmented color formula to ensure super glossy and plump nails. A singular simple stroke delivers rich color and a high gloss finish that stays for long. The Absolute Gel Stylist comes in exciting shades ranging from tomato tang, coral flush to nudes like nude glow and caramel melt. The range is your very own manicurist in a bottle giving you an unmatchable shine and the most perfectly styled nails.
Available in 8 shades at Rs. 400 (3.6gm)
Lakmé Absolute Gloss Stylist
The new range of high performance lip gloss by Lakmé delivers rich color and luscious texture for impeccable lacquered lips. The deeply pigmented, revolutionary gloss incorporates high shine polymers and light reflecting particles for an intense finish.
Available in 6 shades at Rs. 700 (5.9 ml)
Review of Lakme Absolute Gloss Stylist lip glosses will be up tonight. Look out for that.  I will speak about this range in me reviews, you just take an idea from the press release whether you's love to invest or not.
- If you like, leave in comments what your first thought on this range is.
Rate SSU post:
Helpful
Not Helpful
Inappropriate
pollcode.com free polls