NEW ITEM!!!!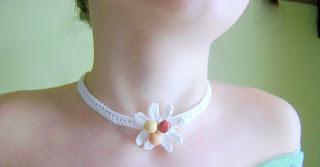 Handmade Crochet Thread White Choker with Beads
This very pretty handmade white crochet thread choker with wooden beads will complete any outfit.
Made with cotton crochet thread, the wooden beads are sewed on and there is a gold circle clasp and gold circle link to close it with. The beads are dark brow, medium brown and light beige.
A crocheted flower is sewed to the middle. This choker is 14" long, not counting the clasp. This thread does stretch a little so it will be comfortable around your neck. Plus its soft so you won't even know you're wearing it.
Dainty and sweet, this choker will be an excellent addition to your jewelry box and will set off any outfit!!!!