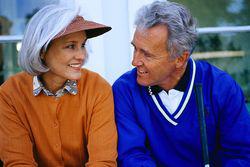 The Baby Boomer generation has been affecting change since they were born, and it continues as they move into retirement age. More sophisticated in their housing wants and desires than previous generations, many are preparing for their next phase of life by selling their their family homes and moving on to new experiences... or re-designing their homes to accommodate their retirement lifestyle.
The trend for Baby Boomers and first-time homebuyers alike is to look for small, smart homes in walkable neighborhoods. Some of the features they are looking for  are similar, and they are having an impact on new housing trends.
Some features the National Association of Home Builders is seeing Baby Boomers are looking for include...
Home offices - many Boomers are continuing to work as they retire, but often in a different capacity... maybe as consultants or starting businesses of their own which they run from home
Tech/media centers - many in the Boomer generation are tech-savvy, and want amenities such as WI-FI, media centers, remote control lighting and security features
Wider doors and hallways - Boomers are thinking ahead about aging in place in their new homes... wider doors and hallways make it easier to move in furniture now, and will accommodate wheelchairs if needed on a temporary or permanent basis in the future
Better lighting/big windows - as we age we tend to need more light; in addition to bigger windows for more natural light (and better views as well!), they are adding more lights such as under cabinets and in stairwells, along with multiple switches and dimmer controls
Main floor bedroom and bath - more than 40% of new homes now have master suites on the main level, up 15% from only a decade ago; the bedrooms are also bigger, with walk-in closets, separate tub and shower and dual sinks
Easy to maintain exteriors and landscaping - many Boomers are looking for relief from yard work, painting and other landscaping chores and choose to buy in a townhome or condo community where that is taken care of for you; those choosing single family homes often opt for maintenance free exteriors, smaller lawns and low maintenance landscaping... or flower beds with easy access for the garden enthusiast
Flex space - this kind of space that can be adapted for use as a guest room, office, hobby room, library as needs change is becoming prevalent for all age groups as the trend moves to smaller smaller, smarter spaces... reminds me of 1950's ramblers where the 'third' bedroom was often this flexible kind of space
Sharlene Hensrud, RE/MAX Results - Email- Baby Boomer Realtor