Continuing on with our Summer Interview Series with Hawaii Five-0 Bloggers and big contributors to the Fan Community, our latest episode puts the spotlight on the founder of The Five-0′s, 'Jools' and her Hawaiian cohort, @LisaLisa98 of Lisa Woo Designs. We find out the origin of The Five-0 blogs that have "All the Inside Info to Your Favorite Show" and those who are behind it!
       This conversation was very cool because we were able to Skype in 3 different locations this time. Jools hails from the UK in London, I was at a soccer tournament in Pennsylvania, and Lisa was Skyping with us from Hawaii! That's a span of 11 hours between all of us, so it took some time juggling! In the end I think you will like where our conversation takes us!
      Jools tells us how The Five-0′s fan community and sites work, about international followers and very interesting conversations about 'Hawaii Five-0″ on the net.
      Some have taken place with the key people connected to the show , along with the fans. She also tells us what you'll find if you follow her blogs as well as @TheFive0s on twitter!  Jools also has a very ethical policy about cast privacy and what kind of pictures you "won't" find on the blogs!
      Friend of our show, @WendieJoy is also friends with The Five-0′s, and knows Lisa Woo, on Oahu (it's a small island, after all!)  Wendie featured her story of being an extra on the set of Hawaii Five-0 for an episode of Season 1, wearing her own costume design in the Five-0 Redux blog, recently!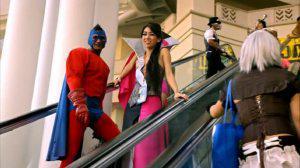 Lisa tells us in our podcast too, the whole story of how that came about and her short but meaningful meeting with star, Alex 0′Loughlin! She gifted him with really cool Twitter booklets for the 4 leads that were a labor of love from TheFive-0′s of fans tweets and mentions! You can see examples of those  at The Five 0′s Tumblr blog.
      For more information about these ladies and all their important Ohana contributors please navigate to their sites at:
Tumblr blog: http://thefive0s.tumblr.com/,
Facebook pages: http://www.facebook.com/TheFive0sOhana or