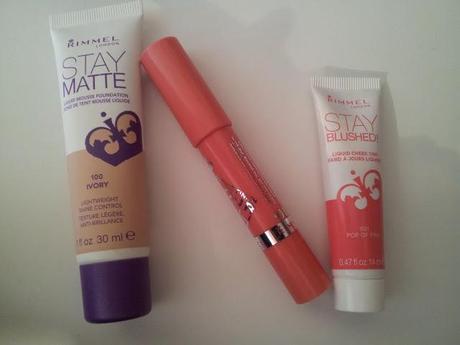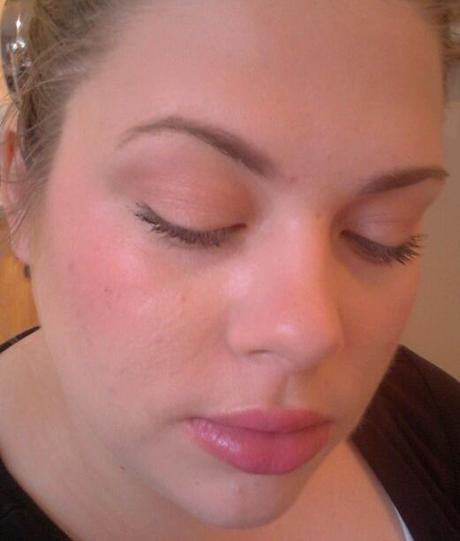 Rimmel are launching some fantastic new products next week and I am really excited to share them with you. I picked these three items up yesterday (the perks of working in boots) and have given them a quick test run this morning to give you my first impressions.
The Rimmel Stay Matte Liquid Mousse (£5.99) is aimed for us oily skin people out there. It is lightweight and gives a semi matte finish. From first impressions it isn't cakey at all, I applied it with my fingers and it glided on effortlessly and smoothly. It is a medium coverage that I would say you could build up. The Stay Matte Foundation comes in 6 Shades, I have the shade 100 Ivory which I think is the lightest shade. 
The second product goes along side the new foundation and is the Rimmel Stayed Blush Liquid Cheek Tint. (£4.49) These come in two shades, I have Pop Of Pink which is a coral pink shade. These are a similar texture to the foundation, a very light weight cream. They are very pigmented and a little goes a long way. It says to apply with your fingers but I put a little on the back of my hand and applied with the Real Techniques Duo Fibre Contour Brush. It leaves a lovely flush to the cheeks glides well over foundation.
Lastly is the Lasting Finish Colour Rush Lip Balm Crayons. (£5.99) Yet another brand jumping on the Lip Crayon band wagon but I find with each new launch the balms gets better.
These come in 6 shades, (I have the shade Give Me A Cuddle) and I would say these are the most pigmented Lip Balm Crayons I have come across. They are very balmy texture but they kind of dry on the lips to more of a tint so I think they will last well. The other thing is they have a gorgeous vanilla scent, not far off the Mac Lipstick scent. A bonus for me but maybe not for some.
Overall Rimmel have done it again with these amazing products. I am really impressed and would recommend them all.
I think these go on sale on the 4th September but keep an eye out from now on.