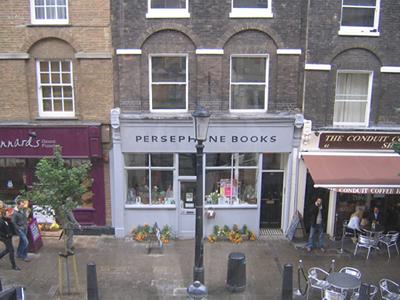 I love finding new bookshops, and I was thrilled when Book Lovers London directed me to this beautiful little place, just a short walk from Russell Square Tube Station. Persephone books sells forgotten pieces of fiction and non-fiction, mostly from women authors, but the occasional male element creeps in as well. There are 102 books in the Persephone collection so far, with a view to publishing two more with the change of every season.
The books can be purchased by mail order or in the store, but ten Persephone Classics are available in all good bookshops. The list of authors includes Frances Hodgson Burnett, Monica Dickens, Helen Hull, Katherine Mansfield, Dorothy Whipple and Virginia Woolf to name a few. The books are beautifully presented in grey covers with an individual end paper design for each book that is in some way connected with the theme.  For example, for one of the books I purchased, The Making of a Marchioness by Frances Hodgson Burnett, the theme is 1901 figured cotton called "Tulips," which is "simple, cheerful and graceful."
Why Persephone? "it has a timeless quality; sounds beautiful; is very obviously feminine; and symbolises new beginnings (and fertility) as well as female creativity…But mainly she is an image of women's creativity, and that is why our logo, based on a painting on a Greek amphora, shows a woman who is not only reading (the scroll) but also symbolises domesticity (the goose)."
And is also the goddess of the Underworld…..
What did I buy?
The Making of A Marchioness – Frances Hodgson Burnett (a Persephone Classic)
The World That Was Ours – Hilda Bernstein (a Persephone Classic)
Miss Pettigrew Lives For A Day – Winifred Watson (a Persephone Classic and their bestseller)
The Persephone Book of Short Stories – Various (Persephone's 100th Book)
The link to their website can be found HERE.