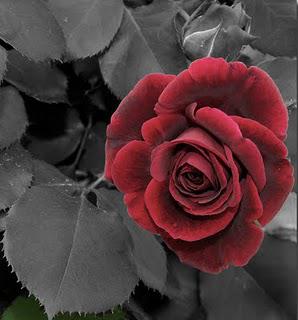 Get it? Blossoming Badass? Yeah, it's clever.
If you'd like me to advertise your feminist blog in an upcoming post, shoot me an email!
I'm always excited when somebody emails me saying they're the proud owner of a new feminist blog. Blogging is such an amazing way to meet new people and "expand your horizons" (whatever the heck that means), and I would highly encourage all of my feminist friends and readers to start one!
Today we're hearing from Alexa, author of a new blog called
Blossoming Badass
:
Danielle: What inspired you to start a feminist blog?
Alexa:
I've enjoyed frequenting feminist blogs since I started high school, my favorite being
The F-Bomb
. I frequently rant to friends and family about feminism, try to incorporate it into my school writing, and even write pieces on it for myself. I submitted a few of those to The F-Bomb and was pleased with the work I'd done and response I'd received, so I decided to start my own blog!
D: Why did you decide to call it "Blossoming Badass"?
A:
I wanted a blog with a catchy, intriguing title that I thought described me. I wanted to encompass a feminist-type attitude too; although I know there isn't one type of feminist, badassness seems to be a trend. (I also have a thing for alliterations.)
D: What topics do you plan to cover?
A:
I plan to cover topics mostly pertaining to feminism, particularly body image, self esteem, and the media. I'll also cover reproductive rights, how people (especially girls) interact, and high school in general.
D: Have you always been a feminist, or is it a relatively new thing for you? What about feminism appeals to you so much?
A:
When I was younger, I didn't have any feminist influences, nor the confidence to be a fervid feminist. I've been a devout feminist, though, since a school project on suffragist
Elizabeth Cady Stanton
in fourth grade and having a teacher who was a very confident, outspoken feminist (although I didn't understand this at the time.) The next year, beginning to read New Moon Girls magazine was a major catalyst. I didn't meet any adult feminists until four years later. Feminism appeals to me because it's for equality, and it has so many subsets that can appeal to slightly differing audiences. Something about it just gives me a thrill, and it makes me feel that I can, as cliche as it sounds, change the world.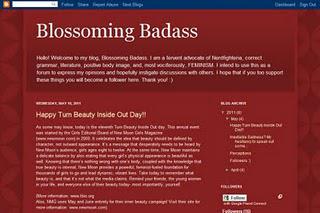 Screenshot!
D: Who do you hope to target with your blog?
A:
I hope to target young women, particularly high school students who may not have previously associated with feminism . . . Feminist, body-positive blogs were what really pulled me out of constant negative self-image, [so] I want to help others like their bodies as well.
D: What advice do you have for other teens who're just discovering feminism? What do you wish more teens would know about feminism?
A:
I advise other teens to look at all of the awesome blogs and books for young feminists! With the Internet, feminism is more prominent than ever. I wish more teens knew how applicable feminism is to our daily lives. All of the things that plague us each day - the pressure for girls to be perfect, struggling with the virgin/whore dichotomy, hesitancy to express oneself - these are all issues addressed by feminism!
D: Would you encourage other teen feminists to start blogs of their own? And if so, why?
A:
I think that blogs are an awesome outlet for teen feminists who may not have another forum for their opinions. If someone didn't want to start his/her own blog, commenting on others (
there are super ones in my blogroll
!) and submitting posts can be a great way to get involved.