Finance Minister Blaine Higgs says more money set aside for any 2014 protests
from Warrior Publications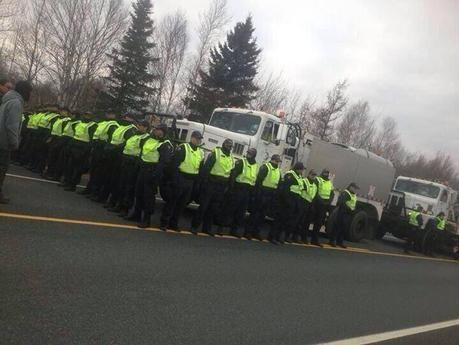 RCMP surround "thumper" seismic testing vehicles contracted by SWN Resources, Nov 14, 2013.
New Brunswick spent $9.5 million policing the shale-gas protests last year, Finance Minister Blaine Higgs said Tuesday.
Demonstrations stretched over six months, as people blocked highways to oppose SWN Resources Canada's seismic testing. RCMP were present for most protests.
In December, the government said the costs had reached $4 million.
Higgs gave the updated figure during the budget Tuesday.
"That's what it took to keep New Brunswickers safe during the issues that kind of developed during the shale gas exploration," he said.
Denise Melanson was one of the protesters.
"I think it's an utter waste of money to have done that. I think that talking to your population and listening to people in the communities that would be affected by this would have been far more profitable," she said.
The policing costs covered:
$350,000 for six RCMP vehicles burned during protests
Overtime
Transportation
Lodging
Investigations
Protester Onile Gallant said the police presence wasn't for the benefit of citizens.
"The cops [are] working for these big corporations. They weren't here to protect us, they were here for the benefit of the corporations," he said.
Higgs said many New Brunswickers support shale-gas development and he hopes to avoid more clashes.
"We certainly are working closely with all of the individuals, in the First Nations particularly, to understand how we move forward in an effective and agreeable manner," he said.
He also said the government has set aside more money in case extra policing is needed in 2014. SWN plans to drill two test wells in the province.