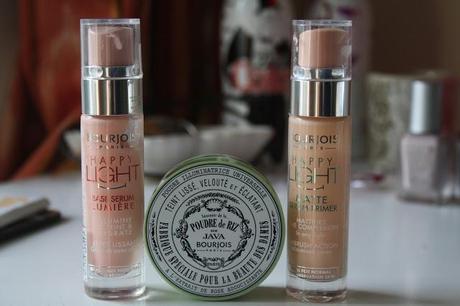 Bourjois have been another high street brand that has brought some great products out recently. There is 3 products in particular (with the exception of the cream eye shadows which I raved about here) that I can't get enough of. Two are serum primers and one is a setting powder with a difference.
Starting with the primers, there is a matte version and a more dewy version. The Bourjois Happy Light Base Serum Matte (£10.99 Superdrug) is the first one I tried and is fantastic for us oily skin girls. It really does leave the skin with a matte finish and a little goes a long way. This feels so light on the skin, just like a serum funny enough.
The Happy Light Luminous Serum Primer (£10.99 Superdrug), feels very similar to that matte primer as in it is light and you can't feel it on the skin but this doesn't dry matte like the other version. The Luminous serum primer sinks into the skin and just gives it a bit of a glow without being shimmery or oily.
Both primers make my foundation last longer and I find it sits well over it and glides on smoothly.
The other product is the Universal Illuminating Power aka Java Rice Powder (£9.99 Boots) which was launched in celebration of Bourjois 150th brithday. This is a translucent powder that was a best selling, classic form 1879. It really is a lightweight powder that I find has a bit of shimmer in too give your skin a radiance finish.I really like using this mainly for setting my concealer under my eyes as it really helps to brighten the skin up.
All three products are must haves to me and I have used them most days since I bought them.
Currently the Primers are on offer in Superdrug for £6.99 but I am unsure how long this is on for.
Have you picked any of these up yet? What's your thoughts?