BEAUTY
❤ ❤ ❤ ❤ ❤ ❤ ❤ ❤ ❤ ❤ ❤ ❤ ❤ ❤ ❤ ❤ ❤ ❤ ❤ ❤ ❤ ❤ ❤ ❤ ❤ ❤ ❤ ❤ ❤ ❤ ❤ ❤
Here is the list of new beauty launches in India took place in  this quarter. We have got Pond's, Vaseline and Sunsilk. On the other hand, Tresseme took an initiative to share their monsoon hairstyles with us.
Why so late in sharing these releases? I realized that a lot of Press Releases were sitting in my inbox and that could not be posted on time. The reason is some releases go to my Junk Folder, despite of adding the sender's name to the trusted contact list and sometimes I forget. So, I decided to list down all the releases in this quarter in one post with a twist here and there.
August 06, 2013: Monsoon Hair Styles with Tresseme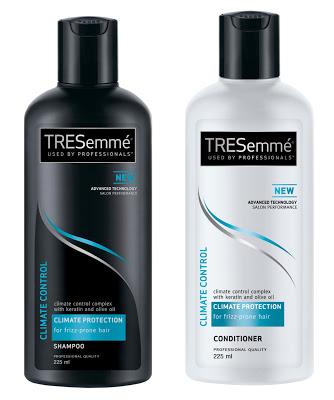 A lot of us are already a fan of Tresseme shampoo and conditioners. But it becomes more useful when Tresseme shares some great hairstyles to try this monsoon.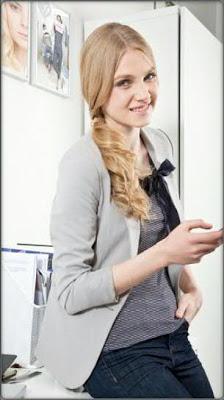 Fringe braids
Make a side parting to your wet hair and braid the larger section of hair, framing your face. Follow the same method of braiding as you would for a French braid. You could either leave the rest of your hair open, or make a ponytail with this section and secure your braid around it.
Twist it up
Make a side parting to your wet hair and gather 2 inches of hair of the larger section, all along the frame of your face. Twist this section tightly throughout its length and tie it up with the rest of your hair into a side ponytail (position it towards the larger section) and wrap the twisted section around it. Use bobby pins to keep it in place.
Embellished buns
A low bun is the easiest way to style wet hair. However, to make it look more interesting, keep
accessories like stylish bobby pins handy to give your bun a more contemporary look. While styling wet hair, remember to be gentle, since it is most susceptible to breakage.
You can treat your damaged hair with Tresseme Climate Control Shampoo and Conditioner.
July 24, 2013: Pond's Pimple Clear White - Multi-Action Face Wash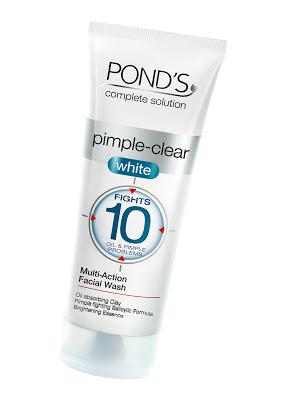 Skincare expert Pond's, introduces the new Pond's Pimple-Clear White Facial Wash, formulated with a powerful combination of oil absorbing herbal clay, pimple fighting salicylic formula, gentle beads and skin brightening essence that fights the10 most common oil and pimple problems which we encounter every day.
Everyday dirt, oil and pollution settle on the skin surface, leaving dirt and oil trapped if left unattended leading to the breakout of pimples. These unhealthy 'deposits' are also the main cause of clogged pores and blackheads.
Pond's Pimple-Clear White Facial Wash with multi-action formula fights 10 oil and pimple problems to give you fresh, clear and fairer skin. It includes a powerful combination of ingredients like herbal clay, pimple fighting salicylic formula with gentle beads and brightening essence.
❤ 
Oil absorbing Herbal clay
- Removes excess oil from the pores and helps clear pimples
❤ 
Pimple fighting salicylic formula
- Washes away 99% of pimple causing germs and reduces blackheads, whiteheads and redness.
❤ 
Gentle beads
- Smoothens roughness, cleanses away dead skin cells and tightens pores to reduce blemishes and dullness.
❤ 
Brightening Essence
- Infuses brightening essence to reduce dullness and make your skin fairer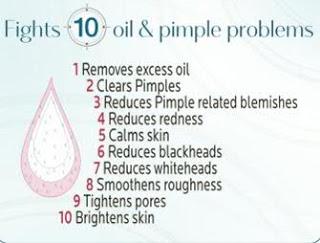 Price
Rs. 135 for 100gms Rs 75 for 50gms rs. 30 for 20gms
July 5, 2013: Vaseline Healthy White Lightening Lotion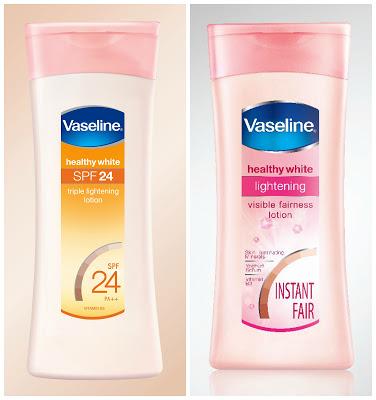 Vaseline Healthy Whitening Lotion - Visible Fairness Lotion and
Triple Lightening Lotion with SPF24
Exposure to the sun interrupts the skin's natural lightening processes. The pigment producing cells become increasingly active, thereby tanning the skin and leaving it several shades darker. When the skin is healthy and cared for, it has the natural ability to maintain a light tone and clear texture. Hence, the
Advanced Optics Technology
used in Vaseline Healthy White Lightening Lotion provides an instant visual benefit from depositing pigments (Titanium dioxide and Red Iron Oxide) for a lighter, more even toned skin appearance; when combined with skin lightening lotion, it effectively takes care of the top, core and within the epidermis leaving it lighter and 4 times* fairer instantly. Vaseline Healthy White Lightening Lotion is enriched with Skin illuminating minerals and Vitamin B3 that penetrate deep in to your skin and gives you an even tone, while Yogurt Serum suspends moisture and provides nourishment to the skin. To protect the fairer looking skin from the harmful UVA & UVB rays, the new Vaselin.
 Healthy White Lightening Lotion also contains Triple sunscreens that protect your skin from darkening.
Price
Visible Fairness Lotion
100ml   Rs 75/-
Vaseline Healthy White SPF 24
June 21, 2013: Shiny hair with Sunsilk Radiant Shine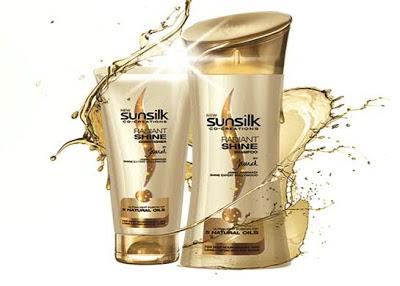 Sunsilk Radiant Shine
has ultra light fusion of oils from ingredients famed for their beneficial effects on hair –
Argon, Jojoba, Camellia, Almond and Olive
. The dual effects of oiling and washing to a large degree soften the hair texture not just from the outside, but actually aims to ensures that the hair receives its share of nourishment at periodic intervals. The light oils permeate upto three layers deep and give hair a natural sheen that stays as the day progresses.
Sunsilk Radiant Shine
shampoo and conditioner work in combination to produce an enduring visibly glossy look that stays on and on! Sunsilk Radiant Shine has been created by the in-house expert team in association with the internationally renowned shine expert for hair,
Jamal Hammadi;
who is also known for his natural approach towards achieving healthy and long lasting shiny hair. Jamal emphasizes on the common complaint by girls, where shiny hair often turns dull within time.
Price
Shampoo
* 80 ml - Rs. 56/-
* 180 ml - Rs. 112/-
* 340 ml - Rs. 192/-
Conditioner
* 80 ml - Rs. 56/-
* 180 ml - Rs. 112/-
Rate SSU post:

Helpful

Not Helpful

Inappropriate

pollcode.com free polls