Hey people
I have shown you my nail polish collection a while ago(read an year back) 
You may want to see my old post My nail polish collection
This post is more like showing the recent additions to my already existing nail paints I got nothing much to talk but just to show and tell what are they and why are they in my collection. So I welcome you to my tiny collection of nail paints.
First is first..
These are newest addition which I loved the most. The Maybelline Colorshow Nail paints are definitely a hit and they are just too fabulous to skip. I have right now 3 and I guess I will be getting few more. But the best ones, I already own :)
These are priced at 75 INR and these are the amazing colours I own.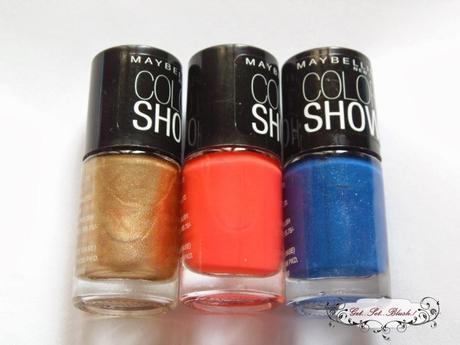 Maybelline Colorshow Nail Polish in Bold Gold,Orange Fix,Denim Dash
1. Bold Gold
2. Orange Fix
3. Denim Dash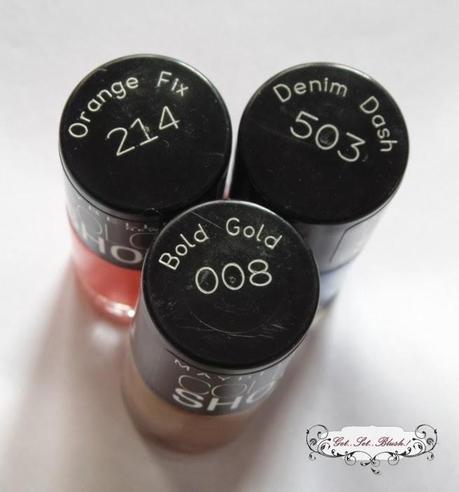 Maybelline Colorshow Nail Polish in Bold Gold,Orange Fix,Denim Dash
I just loved each one so much.. Each of them are so unique in its own way. But if I have to pick one, then that would be Denim Dash for its matte finish.
You may be interested in checking out the Nail Polish and Nail Art Materials I got from kkcenterhk.com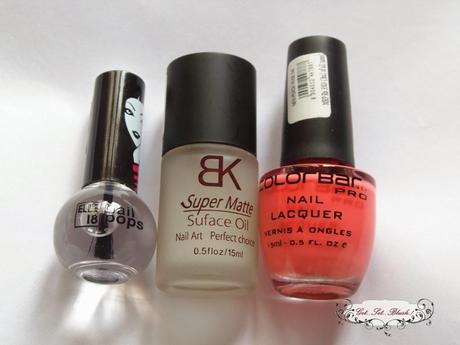 ELLE18 Nail Pops Transparent Coat, BK Super Matte Finish top coat, Colorbar Nail Lacquer
On any given day, I have at least two top coats and this time, when I was checking out the local beauty store, the cute little bottle of ELLE18 nail pop range grabbed my eyes.
The bottle is oh so cute and tiny. It is priced at 50 INR.
If you are already in my friend list on facebook, you must be knowing how much I love the matte nail paints so instead of buying each matte nail paint I bought a top coat which is just ahhh amazing.
The other was there for the color and I won it in corallista's giveaway sometime back
You may be interested in reading Avon Simply Pretty Suede Nail Polishes and swatches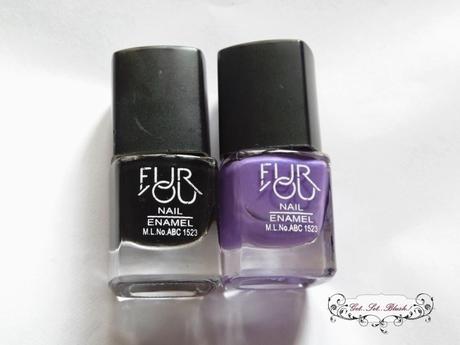 These were my impulsive buys from medplusbeauty. Black one is good for stamping though I could only take half of the design from the plate. Still for me, it felt good.
Here comes my favorite part of the addition.
These are the local Health and Glow's En-Vy nail paints.
These are priced at 50 INR (now they increased the prices to 69 INR)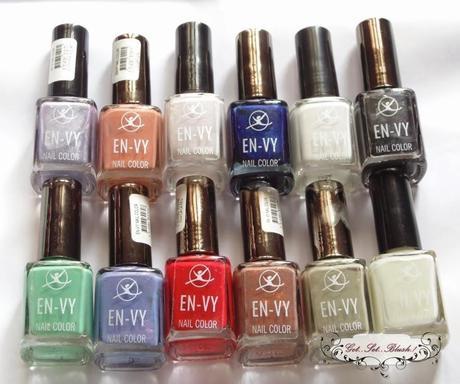 Health and Glow 's EN-VY Nail Paints
These are just very nice for a girl who is not very much into high end nail paints. They give opaque color in one swipe and stays on for 3-4 days without chipping. The dark colors just best and they have shimmery and semi matte finish.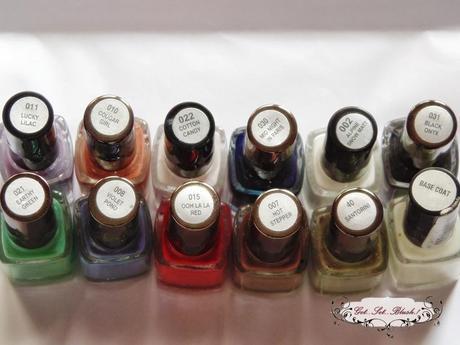 Health and Glow 's EN-VY Nail Paints
I don't know if you think I am a miser but I am sure I don't want to spend 200 INR on a simple nail paint. I am in budget if it comes to the normal nail paints. If its of anything special like crackle or blingy or anything else, then YES !! else a clear no :D