As part of the BlogHer Book Club I reviewed the memoir Slow Love: How I Lost My Job, Put on My Pajamas, and Found Happiness, by Dominique Browning.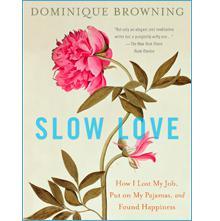 Dominique very suddenly lost her job as the Editor of Conde Nast's House & Garden. They told her Monday that the magazine was folding and to have her office packed up by that Friday, right before the holidays.
Dominique found herself with no job, no children at home, and no relationship. She had all the time in the world, but no energy to actually do anything.
She stayed in her PJs a while and thought about a past relationship with a man she nicknamed "Stroller".  But eventually she turned to writing, found ways to be creative and enjoy nature again, and decided to let love find her rather than try to seek it.
Right now there are many people who have lost their jobs and are facing financial hardships. Dominique was extremely lucky in that she had had such a successful career before that she could afford not to work for a time. While some women may feel like they would not be able to relate to her story because of that, I still found the book to be inspirational. Even if you've never lost a job, we have all had a time in our lives when we've felt a little lost. This book is a great reminder for everyone that although it can be hard sometimes, life is something to be savored.