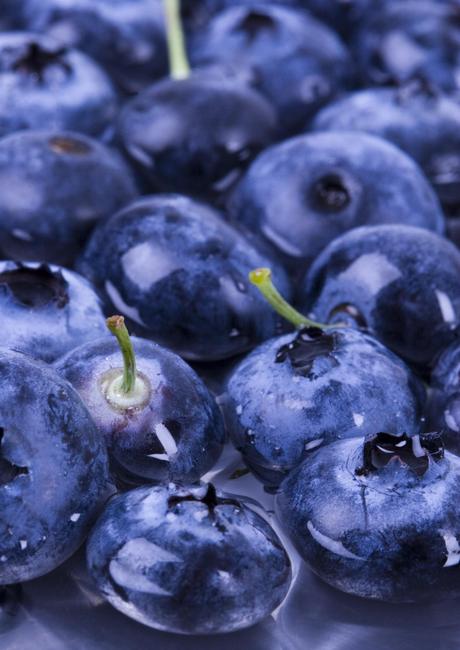 I originally wrote this article on my own but then had some professional banter with a friend and colleague, Marcy, who approaches a healthy lifestyle with clients from a different perspective.  I thought it would be fun and informative to get two perspectives.
Here was my reasoning.  When I see a patient, it is because they are either sick or because they were just given a diagnosis that they need to have treated for example high cholesterol.  When they come to me, they are often willing to make changes in their lifestyle but are not ready.  Remember what I said in my last post, nothing I say will be effective when someone is not ready to change.  However when they see Marcy, they are not only willing but ready.  She has had great success with her clients she has seen.  This alone has made me rethink my approach with patients.
So let me introduce you to Marcy Cox, a Board Certified Health Coach (HC). She received her training at the Institute of Integrative Nutrition, and the Institute of Psychology of Eating. She also studied natural foods cooking at the Natural Gourmet Institute. She approaches a healthy lifestyle holistically.
Hi, my name is Marcy Cox.  Dr. Rajka asked me to comment about eating healthy and weight loss.  As a HC I don't like to talk about weight loss on its own.  I believe that "weight loss is one of the benefits of getting healthy."
In my Health Coaching program I focus on improving your health and happiness through nutrition and lifestyle coaching.  Well, that's what it says on my business cards anyway.  But what does that mean?  Basically, to get healthy (in mind and body); to create a healthy life in a way that is flexible, fun, and free of denial and deprivation.
Getting healthy can mean a lot of things to different things to a lot of different people.  I will say that for the most part, for most people, eating better quality foods, in the appropriate amounts, along with daily activity or exercise is a good start.  I know that is easier said than done.  But with coaching, you won't be alone in this journey.  When I coach my clients, they lose weight, gain energy, sleep better, think clearer and feel better overall.  Often times this has happened in the first week.
What is the number one thing people can do today to improve their diet.  Well, there are so many little things and there's more to it than just what you put in your mouth.   But as we talked we both agreed that one easy thing you could do right now is to watch your portions.
So that brings up the question, what exactly is a portion?  Well, one portion, or otherwise known as a serving size, is the amount of a particular food people should typically eat at a sitting.  But this of course is a general statement since everyone is different.   Depending on your height, weight, sex, and daily activity you may need at little more or a little less.  But it's good to have a starting point.
Here are a couple of examples of what a typical serving size should be:
1 slice of whole wheat bread (1 ounce)
½ of a 6" pita (1 ounce)
½ cup of cooked rice or pasta (half a tennis ball)
½ banana
15-20 cherries or grapes (size of a tennis ball)
3-4 ounces of beef or chicken (the size of your palm or a deck of card)
½ cup of cottage cheese (½ of a tennis ball)
1 ounce of hard cheese  (size of a lip stick or four dice)
1 ounce of shredded cheese (size of a golf ball)
½ cup of beans (½ of a tennis ball)
½ – 1 Tablespoon of olive oil (your thumb nail – a poker chip)
What about the portion size of the meal that you ordered in the restaurant the other night?   I'm sorry to say, that it's often times much more than you need.  Typically, most restaurant meals can serve two, maybe even three people… from just one dinner.   That doesn't even include the appetizer, bread and butter before the main course.  You may also be surprised to learn that the amount of calories and fat you're supposed to have in one day can be toppled by that one meal!
So what can we do about this?  How do we get in control without enjoying a nice lunch or dinner out at our favorite restaurant?  Here are some tips:
Don't show up famished.  Eat a piece of fruit or some almonds an hour before.
Look up the restaurant on the internet.  They may have a menu and you could decide what you're going to eat before you arrive.  No pressure and you'll make a wiser choice.
Share a dinner with a friend or spouse.
Cut the meal in half on your plate.  Eat half.  Take home the rest.
Have a salad and an appetizer as your main meal.
Have broth based soup as your appetizer.  It's a great filler.
Thanks Marcy for the invaluable information.  I couldn't agree more, I feel eating portions that are too large is one of the top three reasons diets fail.  Ok, you are right we shouldn't call it a diet but a health way of eating for the rest of our lives.
I thought I would further highlight portions with some photographs.
Here is a photo of what I would normally put on my plate… if I wasn't thinking about it: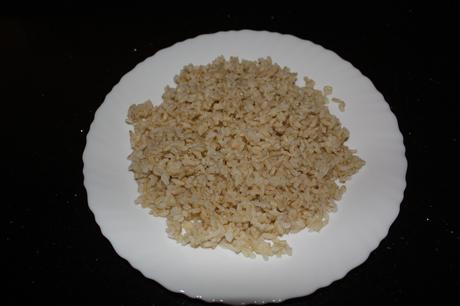 As you can see, I have filled almost my whole plate.  The amount measured 1 2/3 Cup!  Much more than 1 serving.
Here is a photo of 1 cup of rice (2 servings)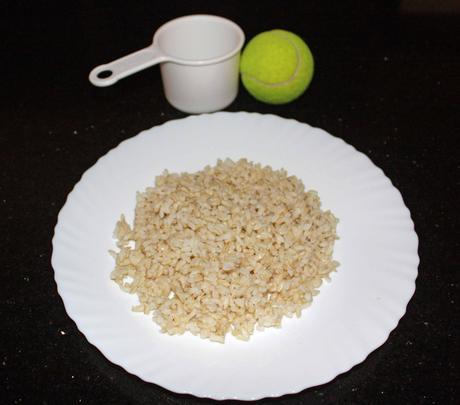 Here is a photo of a proper serving of rice: ½ cup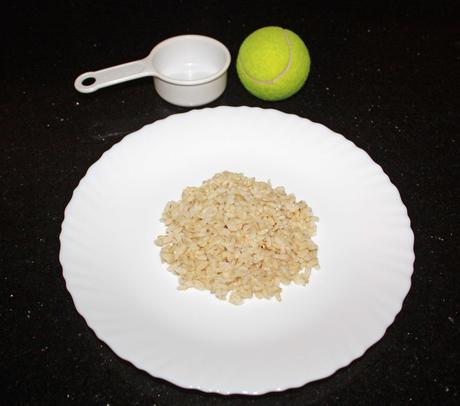 Once you can visualize how much you should be eating, you will be eating only what you need and the weight loss will come.
This week we highlighted portion size.  In upcoming blog posts, we will review the two other reasons diets fail: the quality of food you eat and the fact that diets are not sustainable.
Share your tips on how you keep portions size under control or your top tip for eating healthy!  Love to hear them!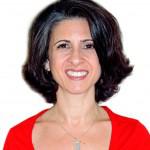 Marcy Cox is a Health Coach currently based in Doha, Qatar.  To contact Marcy or find out more information about her health coaching services you can email her at:
[email protected]
  Marcy takes only a small number of clients to keep her coaching individualized and can see clients virtually.  Coming soon: www.healthyisdelicious.net