As much as I go bare-faced these days, I do love me some makeup.
As with any busy mama, we want to look our best without spending too much time. I don't know about you, but my mornings are pretty rushed trying to get my little man dressed, fed and out the door by a certain time. Even so, I do try to put on a little something on my face whether it's moisturizer, liquid foundation or a bit of concealer.
However, my makeup collection is pretty bare. I hate to admit it, but I have items that are the same age as Little M (nearly 4 years). I know, I know...I NEED to get rid of those and replenish.
Neutrogena must have known about this busy mama and her shabby makeup habits, because they have offered me $100 in products, including their new Shine Control range.
Yesssssss!
But I'm not here to gloat. Nope. On the contrary.
Neutrogena is giving one of my lovely followers the chance to win their very own Neutrogena Mystery Box (worth $100) which of course includes their new Shine Control range.
Say hello to Primer, Makeup and Powder.... ¡me gusta mucho!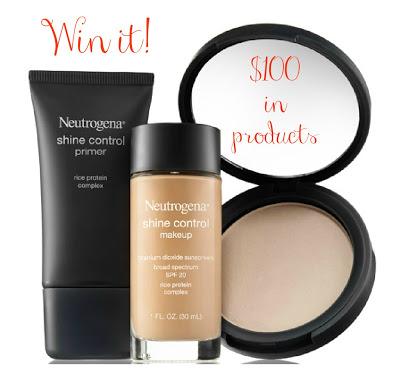 Pretty nice, right? I'm excited! And I'm sure my face will thank me soon enough. 
Here's a bit more about Neutrogena's New Shine Control: 
* Shine Control line of cosmetics will keep your look shine-free for up to 8 hours! Yes, that's right 8 hours – which means no shine for your entire work day! 
* All Shine Control items help your skin stay fresh and shine-free with the rice protein technology that acts like a sponge to absorb excess oil. 
* Best deal is to shop Neutrogena at Walmart for an average of $13.44 while another popular retailer has the same primer online for an average of $20.98!  
So what are you waiting for? Get entering! (Sorry UK peeps, this is US only)
a Rafflecopter giveaway
*I am receiving $100 in products for this post and giveaway*