Yesterday hundreds waited in line along King Street and Washington Street to be the first to shop the new H&M store in the heart of Alexandria and I was NOT among them. HECK NO! I don't do crowds or lines. But I was super excited about the retailer being just five minutes away from my house and I had planned on swinging by to see if I could pick up a little something or two later on in the day.
However, as luck would have it, I had entered a local giveaway on Beltway Bargain for a $150 gift card and I was the chosen one! I first fell in love with H&M when I lived in Madrid in 2003. I had never truly experience stylish, trendy and AFFORDABLE clothing all in one place — and I thought, WOW, there is something OTHER than the Gap.
At the time H&M wasn't in the D.C. area so when I came back I missed being able to shop the high street trends and prices. A few years later, H&M opened up in D.C. and I would jump on the metro at lunch time to do a little bit of retail therapy! Then came 6 1/2 years of living in London and my relationship with H&M deepened. Since then, we've been fashion besties.
Back to the opening — I waited outside with other local press (shout out to Drew from the Alexandria Patch!) until it was officially open. I was a super excited because I had received word that I would get to meet North America's Head of Communications for H&M and NBC's Fashion Star buyer Nicole Christie. YEAH!!!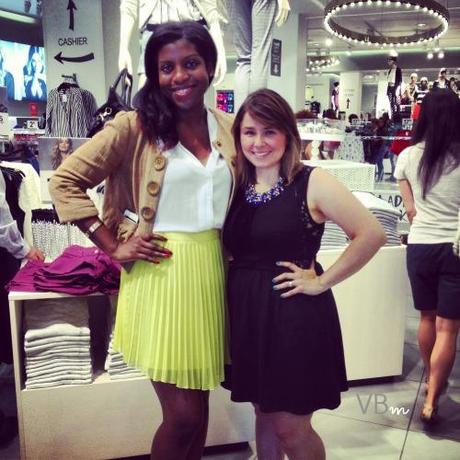 Talking fall fashion with Nicole Christie
And naturally if I was going to the grand opening of one of my favorite stores I had to dress the part. I took out a black dress with lace back that I had bought on sale at H&M for $15 just a few weeks ago and my red and black shades.
I paired it with my new Stella & Dot Kahlo Bib Necklace and my favorite open toe low heeled pumps from Marks & Spencer. Boom! Busy mamá ready to roll!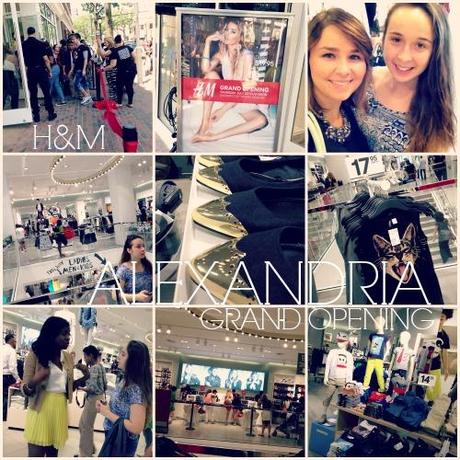 The atmosphere was incredibly enthusiastic and the day was absolutely gorgeous — sunny, clear skies and a cool 70 degrees. Thank God, because I am not all about the sweaty bangs look! Once inside, I was taken by just how big the store was and how light and uplifting it was. Everything was beautifully laid out and with a mix of pre-fall picks and summer styles. 
The kids section was super trendy and I can't wait to bring my little ones back for some shopping. If you haven't experienced H&M, you should — it's not just for the young and thin. There is something for EVERYONE! Trust me.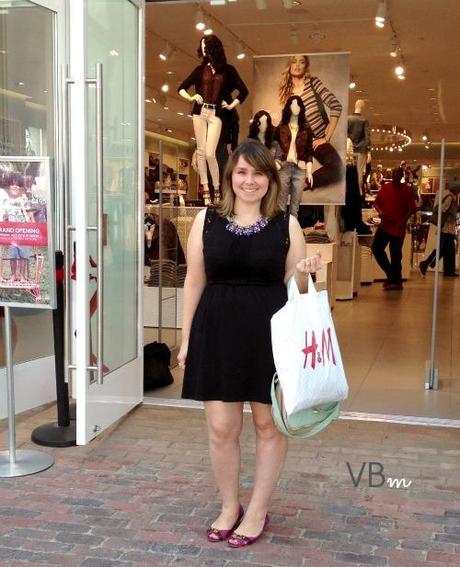 I personally can't shop with a million people around so I will be coming back very soon! Amidst all the shoppers, I ran into Alexandra, Alexandria Stylebook's intern! She and I then got to chat and interview Nicole where she gave us her picks for fall favorites — let's just say, the "fancy casual" look is a go! 
I am dedicating another post to H&M fall styles, my interview with Nicole and what I bought at her recommendation (you are going to LOVE this!)
Tomorrow,
Saturday July 27th
between 12-4 the store is having a kids Back to School event with a 25% off shopping discount in the children's section. There will be face painting, treats and additional prizes. I will be coming by with my babies — have to get M and Little L ready for fall!
¡GRACIAS! for coming to Alexandria!
The H&M in Alexandria is located on 614 King Street just off of S.Washington Street.
Disclosure:
I won the gift card for H&M, nothing more. I was not obligated to write or post — my only obligation was to shop! Nicole Christie was kind enough to chat with me and do an interview (coming soon!)