Neutrogena Lip Moisture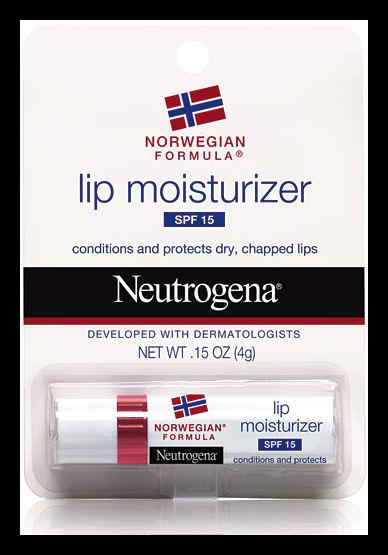 PRODUCT DESCRIPTION
"Lip Moisturizer softens, smooths and protects dry, chapped lips with no waxy feel.
This moisture-enriched formula soothes and conditions your lips, keeping them healthy looking and soft in all weather. Contains a PABA-free SPF 15 sunblock for added protection from the sun.
Leaves lips soft, smooth and moisturized.
Active Ingredients:
Octinoxate 7.5%, Oxybenzone 4%.
Inactive Ingredients:
Castor Seed Oil (Ricinus Communis), Corn Oil (Zea Mays), Ozokerite, Petrolatum, Beeswax (Apis Mellifera), Ethylhexyl Palmitate, Paraffin, Stearyl Alcohol, Carnauba (Copernicia Cerifera) Wax (Copernicia Cerifera), BHT
Warning: For external use only. Not to be swallowed. Avoid contact with eyes. Discontinue use if signs of irritation or rash appear. Use on children under 6 months of age only with the advice of a physician. Keep out of reach of children. If swallowed, get medical help or contact a poison control center right away."
The Warning almost made me not buy this product...."poison control"!!! are you kidding me!! :P
Price
- INR 95/- (price has gone up since i bought it,I think its around INR125 now)
The Product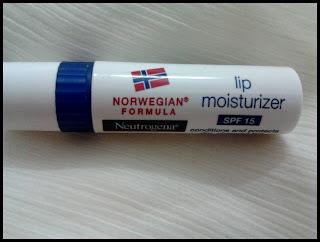 First, I am a sucker for lip balm/tints/moisturizers/gloss/sticks etc etc etc, that is, any existing lip product available on the face of this earth. I love lip balms. I love them more as I have dry lips. I must be having at least 7-10 lip balms, that I use simultaneously, I mean, all are unpacked/opened. I know!! Crazy right?? Although undoubtedly, most of us girls are obsessed with them...am I right???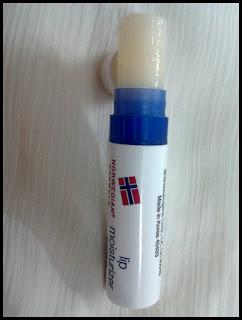 No, Neutrogena does not advertise this lip moisture/balm as a cure for pigmented/darkened lips.
Infact, I have never ever seen any advert of it. It was a random buy at a Health and Glow store in Chennai.
It has been two months that I have been using this lip moisture regularly. I am very sure that this lip balm has de-pigmentized (is that even a word!!) my lips. Yes! Yes it has. Its probably because of the presence of SPF15 in it. But it is amazing!
My lips were pigmented due to too much use of lip products ( yes, even high end brands may darken your lips) and offcourse, sun damage. But this lip balm turned it around.
I will definitely buying it again.
Me Likey  
SPF15
Paraban Free
Does everything a lip balm should and plus..
Helped remove pigmentation from my lips
has good stuff like castor seed oil and corn oil...
Me No Likey
the warning about POISON CONTROL!!!....though they wrote it for our good.
I really wish it came in tinted form as well..
I Give It
- 9.9/10    minus .1 for no tint ( I really love tinted lip balms)