More and more people are 'haating' on NetHaat and the word is spreading fast about the super convenient and fun way of buying handicrafts from all over the world. We give both handicrafts buyers and sellers a platform where they can meet and safely make handicraft purchases without having to step out of their homes. It's a revolution in indulgence and it's going places.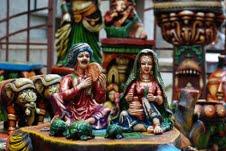 We were recently featured in international media including the leading  national dailies  'Economics Times' & Hindustan times thru AFP News agency  as an upcoming handicrafts online platform, providing handicrafts manufacturers and sellers an alternative avenue to sell their crafts and boost sales. The article is an interesting read, and talks of our on-the-ground initiatives to empower small sized handicraft manufacturers to reach out to a wider global audience.
The Indian handicraft industry is booming and e-commerce is the next logical step for it. The reach the internet offers is immense and allows even manufacturers sitting in remote locations to access a worldwide market. Our plans are ambitious and we are leaving no stone unturned to give the best online experience to both sellers and buyers on the platform.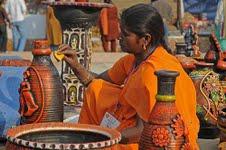 The range of handmade offerings is growing leaps and bounds with new specialized handicraft sellers coming on board every day. Be it metal, wood, clay, fabric or paper, we aspire to be a platform where everyone can find something suited to his or her taste or utility. The competitive marketplace will make way for better prices for the consumer and get them true value for their money. So fear no more of getting fleeced in the bylines of local markets – buy handmade items at the best rates in the market.
Nethaat is a win-win for everyone. Great prices, great products and the option to bargain rates; the facilities couldn't get better. We have tried to emulate a real marketplace experience allowing maximum flexibility for both parties. If you haven't already tried the Nethaat experience, it's about time you get the best deals on your favorite handicrafts. And if you are an innovator yourself and make beautiful craft, try selling it using our website without any hassle and from the comfort of your home. The whole inspiration behind Nethaat is empowerment of the skilled and we realize the potential it holds.
Watch the space for more as we continue adding more feathers to our cap. Till then – happy 'haating'!
Link:-
http://economictimes.indiatimes.com/news/news-by-industry/et-cetera/indias-handicraft-makers-go-online-for-new-clients/articleshow/8858702.cms
http://www.hindustantimes.com/Internet-market-for-handicrafts/Article1-710128.aspx
http://www.google.com/hostednews/afp/article/ALeqM5iN7xpwy0zyPq8ZgSdUyOBDY1KMZA?docId=CNG.b80e20ba7a8a0ad5c8dedc098860570c.41
http://thenextweb.com/in/2011/06/15/indias-answer-to-etsy-emerges/

Economic Times
,
Handicraft items
, Handicrafts , Handmade , handmade gifts , Handmade items , Hindustan Times , nethaat , nethaat news , online platform