When one considers just how big the Marvel Universe on
Netflix
has become, it's sometimes hard to remember that it's been less than two years since the first season of Daredevil arrived to both massive fanfare and critical raves. The streaming giant has made great strides in bringing superheroes to its subscribers on an annual basis, but with more heroes on the way it seems something will have to give.
Daredevil
and
Jessica Jones
have already established the Netflix corner of the
MCU
. Meanwhile,
Luke Cage
and
Iron Fist
's solo debuts are on the menu,
The Defenders
is coming up, and
The Punisher
's spin-off is waiting in the wings. That leaves fans wondering when exactly there will be a Daredevil season 3 or Jessica Jones season 2. Will Netflix stick to its established schedule of releasing only two new seasons per calendar year? The answer to that question has now been confirmed as yes.
Also See:
 Marvel Agents of S.H.I.E.L.D. Season 4 Begins Production
During the summer TCA press tour, Netflix boss Ted Sarandos was asked when viewers could expect more solo adventures starring The Man Without Fear and perhaps the world's most cynical private investigator. Unfortunately for those impatiently waiting for the return ofDaredevil and Jessica's respective series, Sarandos clarified that Netflix is sticking to its two seasons a year release strategy, and that the two available slots in 2017 will be occupied byIron Fist and The Defenders.
@ChrisHayner So, yes.— Rick Porter (@rickporter) July 27, 2016
Marvel/Netflix sked: Luke Cage, Iron Fist, Defenders THEN 2nd and 3rd seasons of the other shows and Punisher.— Natalie Abrams (@NatalieAbrams) July 27, 2016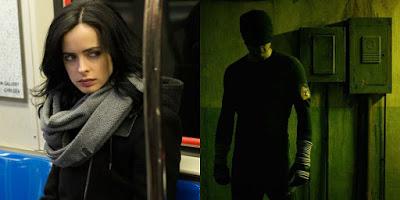 While that's not entirely unexpected — and fans will get to partially reconnect with Matt Murdock and Jessica Jones during The Defenders' 13 episodes — it does beg the question of how exactly 2018's schedule will shake out for Marvel's Netflix properties. Jessica Jones season 2 was previously said to be filming back to back with The Defenders, so it seems logical that Jones will fill the spring 2018 slot.
The real question mark is the fall 2018 slot, with both The Punisher season 1 and Daredevil season 3 seeming like logical contenders for the spot. If Marvel and Netflix absolutely refuse to go to three releases a year, that means it'll be over three whole years from now before fans get to see either Frank Castle's solo debut or see how the fallout of The Defenders has affected Daredevil. Regarding the prospect of Castle appearing in some capacity during The Defenders, Sarandos played coy, only saying "stay tuned."
While there's something to be said for having things to look forward to, announcing new TV shows this far out from their premiere is still a fairly new idea for the medium, and there's a chance the patience of Marvel fanatics might end up being tested as the months and years drag on. On the other hand, the longer wait time between seasons will give writers and producers more time to work and to break stories, and that could very well make the wait well worth everyone's time.
Also See: 
Thor: Ragnarok's Karl Urban Shows Off His Skurge Haircut
Daredevil season 1 & 2 and Jessica Jones season 1 are now available on Netflix. Luke Cage season 1 will arrive on September 30th, 2016. The Defenders and Iron Fist arrive in 2017. Release dates for Jessica Jones season 2, The Punisher and Daredevil season 3 have not yet been announced.
Source:
Twitter
,
ScreenRant