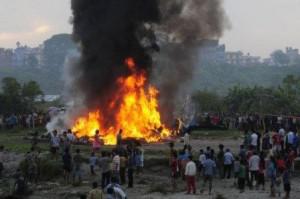 Nepal Plane crash claimed 19 lives including seven Britons today. A two engine plane fell shortly after take-off from Kathmandu airport. Seven Britons, Five Chinese and seven other people were on board. Nepalese police have confirmed the deaths. Identities of the dead are not confirmed yet.
The Foreign and Commonwealth Office has also confirmed the reports of Britons fatalities.
"I can confirm that there were British national fatalities. The embassy in Kathmandu is in contact with the Nepalese authorities and the British ambassador has already been to the hospital where we understand the bodies were taken." A spokesperson said.
The Nepalese plane crash occurred near Manohara River, South-West of the country's capitol city. The ill-fated carrier belonged to Sita Air and was heading towards Lukla, a town considered to be the gateway to Mount Everest and a famous destination for trekkers.
Eye witnesses confirmed that the plane was engulfed in flames before hitting the ground.