If you ask me one thing that I wouldn't leave my home without, the answer is pretty straight-the sunscreen. Sunscreen is that important to me. As a teenager, I was never much into the skincare and definitely, sunscreen was not part of my daily routine. I have known the importance of wearing the sunscreen in a very hard way. Once, I started using it, I realized that I wasn't very happy about some or all the qualities of the sunscreen.
That's when my hunt for a perfect sunscreen for everyday wear started. I have tried almost all the sunscreens available in the drugstore and few selective ones from the high-end brands.
Though I might like one sunscreen at the beginning of the usage, slowly I find weird reasons to try a new one.
In my quest, I came across this sunscreen from NeoStrata. I am no stranger to the brand as I have tried various products from this brand and never disappointed.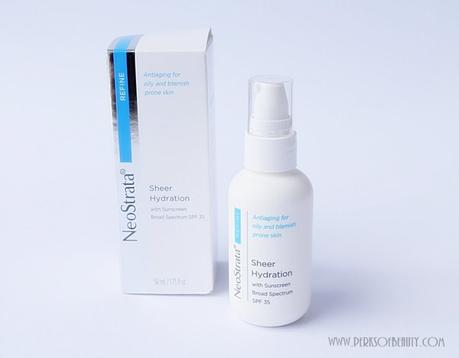 NeoStrata Sheer Hydration SPF is a light, oil-free daily hydration that helps control and reduces oiliness while providing broad-spectrum sunscreen protection. This sheer formula also helps even skin tone and improve skin firmness while providing broad spectrum UVA/UVB protection. Formulated with patented NeoGlucosamine® which is clinically proven to help diminish the appearance of dark spots, for a evener skin tone, and improved texture and firmness. Broad spectrum sunscreen protects the skin from burning and further sun damage, while Phytotal®, a botanical blend, helps to control and reduce oiliness without irritation. Oil-free, fragrance-free. Non-comedogenic, non-acnegenic.
Product Snapshot:
- Helps control and reduce oiliness
- Evens skin tone and improves skin firmness
- Provides broad-spectrum UVA/UVB protection
- Oil-free
- Non-comedogenic
Sun Protection Measures. Spending time in the sun increases your risk of skin cancer and early skin aging. To decrease this risk, regularly use a sunscreen with a broad spectrum SPF of 15 or higher and other sun protection measures including Limit time in the sun, especially from 10 am - 2 pm, and wear long-sleeved shirts, pants, hats.
How to use: Apply liberally to face and neck daily, 15 minutes before sun exposure. Use a water-resistant sunscreen if swimming or sweating. Reapply at least every 2 hours.
Size: 1.75 fl oz
Price: $48 at NeoStrata.com Key ingredient: NeoGlucosamine, Phytotal®, Broad spectrum sunscreen Recommended usage: Daily/AM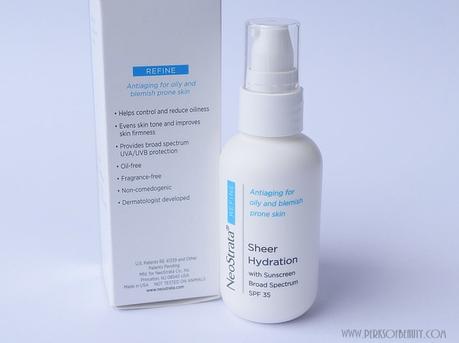 Coming to the review of the NeoStrata Sheer Hydration with SPF 35, it is what they claimed and proven results say. The texture is perfect for everyday wear. It is not sticky, doesn't leave a white cast on the face(especially on brown girls like myself), absorbs into the skin easily. I have super dry skin and this sunscreen provides enough moisture that my skin wants. Also, this acts as a perfect base for my makeup, which is a major plus.
Things that I look in a sunscreen
1. SPF (at least 30)
Well, you know why.
2. Should be the right consistency to spread across my face
Because, when I am running late, I do not want to waste my time in blending
3. No White-Cast
Sorry people, I want to look like myself and not a ghost
4. Reasonable Price
I use the product every day, if I run out of it, I don't want to think twice to buy it again.
5. Travel-Friendly Package
Well, I carry it everywhere - leakproof is preferred.
Overall, all the 5 factors are satisfied by the NeoStrata Sheer Hydration Sunscreen with SPF 35. Why not, you try it and verify.